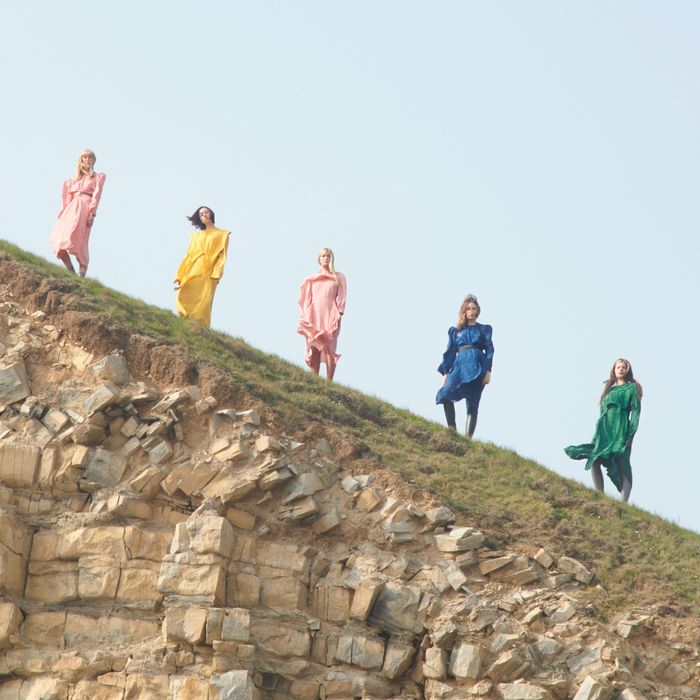 A riddle for you: If a brand is sustainably minded, what should its ad campaigns look like? Stella McCartney, one of the trailblazers of ecofriendly high fashion, is an expert at marrying aesthetics and sustainability into one chic package. So for her winter 2019 ad campaign, McCartney cast climate activists, Amber Valetta, and models who were selected for "being voices for change in their own field." The activists are Deya Ward, Ruby Musnlow, and Tori Tsui from Extinction Rebellion, an activist group that, well, rebels against the possibility of human extinction by climate change. In addition to the images, a film narrated by Jane Goodall and featuring a poem by Jonathan Safran Foer will be released in September.
"Just her inviting me and other activists along today, it is not something that I'd usually be doing, but the fact that she's aware that we exist, and especially Extinction Rebellion, I have a lot of respect for," Munslow said in an interview while shooting the campaign. "She's given us a voice today."
The clothes are made with discarded fabric and organic cotton. The accessories are made with recycled nylon, faux leather, and biodegradable acetate for sunglasses.