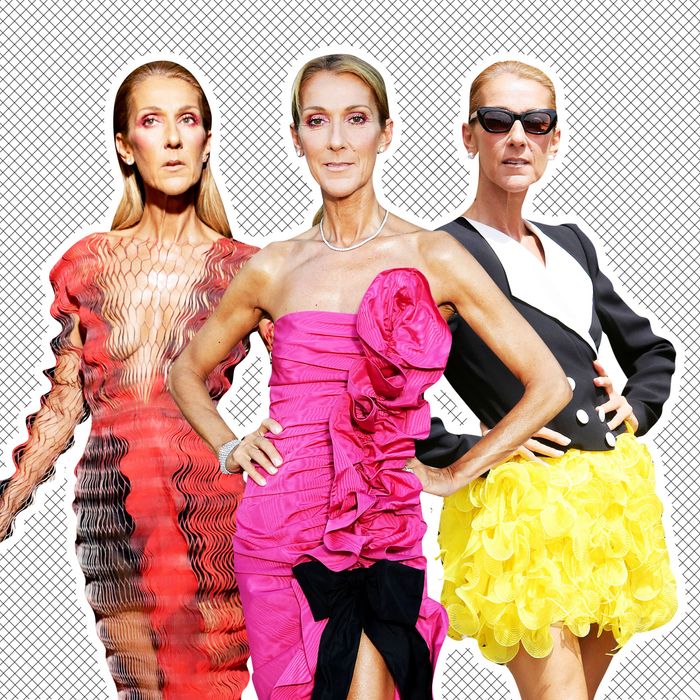 Photo: Getty Images, Shutterstock
In Paris, it is couture week. And while all the staples are having shows — Dior, Chanel, Givenchy — there's a newcomer on the block. The house of Céline Dion: The world is her runway, Paris is her stage, and she makes each designer's clothes look as good if not better than the models on the actual catwalk.
Looking at Céline Dion's paparazzi shots is like taking all the best things about couture week and bundling them into one edited spectacle. Is there pageantry? Yes. She accessorized a Richard Quinn dress with two Dobermans. Are there risks? Again, yes. Unlike many celebrities, Dion will take a fashion risk. In the last two weeks alone, she's worn a leotard with a blazer (no pants — see below), asymmetrical jeans, and a Grease-inspired jumpsuit this week. Dion is the best kind of fashion icon because the clothes, no matter how wacky, never look like they're overwhelming her. She's the star. Her old stylist, Law Roach, told the Cut two years ago, "She's just the quintessential diva. She'll sacrifice her body and endure pain for a beautiful look." This couture week, Dion has been working with stylist Sydney Lopez, but the message still translates, especially since there's a heat wave in Paris.
Take the Off-White blazer and leotard she wore yesterday. It was worn on the brand's spring 2019 runway by Gigi Hadid, and sure, she looks great, but Dion brings it to life with a smile and a wave. That's another reason why she's fun to watch — she seems like she wants to share her incredible wardrobe with the public. She'll pose dramatically at just the right angle, inviting anyone who doesn't care about couture week to see the splendor of the clothes. Don't believe me? Scroll down.