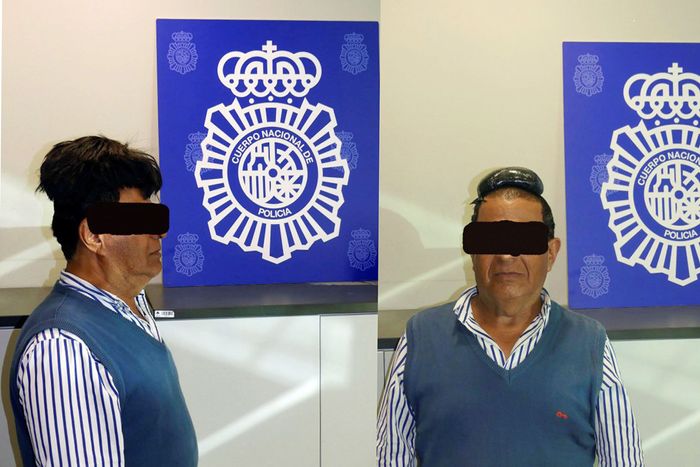 Can you see it?
Photo: Spanish National Police/HANDOUT/Shutterstock
Take a look at that picture on the left. Does anything seem off? Believe it or not, that lush head of hair is actually a toupee, under which sits a half-kilo of cocaine (roughly 1.1 pounds). If you look closely at the picture on the right, you can see the cocaine taped on top of the man's head.
According to the New York Post, the man in the photographs flew from Bogotá, Colombia, to Barcelona, Spain, at the end of June. He looked "considerably nervous," and drew the attention of eagle-eyed Spanish law enforcement officers because of the "disproportionate size" of his hairpiece.
"There is no limit to the inventiveness of drug traffickers trying to mock controls," police said in a statement following the arrest of the criminal mastermind.
The unnamed man is not the first to attempt such a feat — as Eliza Doolittle once sang, "The cocaine in Spain is smuggled mainly on the plane." Perhaps he was inspired by the two women who, in 2014, were arrested at the Madrid airport for hiding 1.2 kilos (42 ounces) of cocaine in their wigs. Police at the time said the drugs were difficult to detect "given the realism of the fake hair" and that "the packages were perfectly adhered and did not stick out from under the wigs, which made the narcotics imperceptible."
"Imperceptible … " the man probably muttered to himself as he stretched up his arms to balance the toupee high on top of the cocaine.
Maybe he would have been more successful if he had added a drawn-on mustache.