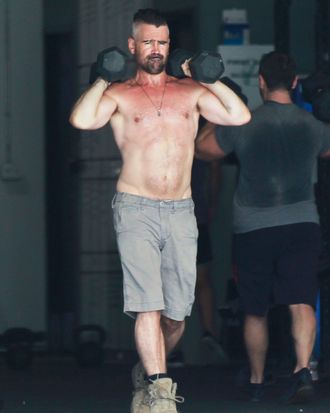 Photo: FIA PICTURES AGENCY
We're all familiar with the unrelenting trend in the Instagram-driven retail industry known as athleisure, the concept that wearing spandex, sports bras, and the like need not be limited to an actual gym. But have you ever heard of a brave individual undertaking its philosophical and moral opposite?
Thank you, Colin Farrell, for showing us in Los Angeles today that distinctly non-athletically intended clothing like khaki shorts and a pair of hiking boots can be worn while pumping iron.
If you think that perhaps button-fly hiking-style bottoms might not be the best thing to wick away the sweat from your body, or that wearing bulky hiking boots is the best way to leave a workout with athlete's foot, how dare you? Instead of the masses looking like they came from a gym when they actually didn't, everyone should be wearing looks that inspire the question, Why did you work out in that?
Outfit details coming as soon as we get them from Dick's Sporting Goods.