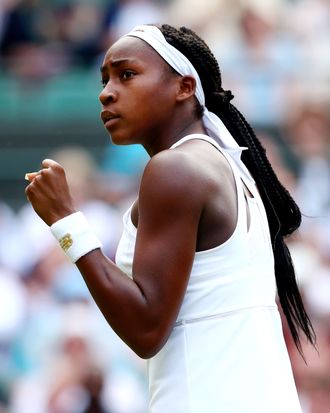 Cori Gauff.
Photo: FELIPE TRUEBA/Getty Images
At just 15 years old, tennis player Cori "Coco" Gauff just experienced what has to be one of the most exciting moments of her life: defeating five-time Wimbledon champion Venus Williams in a shocking first round of the women's singles at the British tournament.
Who is this exceptional player? How did she feel after beating one of her idols? Here's everything to know about the tennis player that the New York Times called "one of the world's most promising."
She's a prodigy.
At just 15, Gauff already has quite a few remarkable achievements under her belt. In 2017, she made the final in the U.S. Open, becoming the youngest player to do so in the junior circuit; in 2018, she won the French Open, making her the second-youngest girls' champion. And this past year, she added an impressive first to her career: She became the youngest tennis player to qualify for Wimbledon in the Open era, and is now the youngest woman to win a Wimbledon match since 1991.
She just defeated Venus Williams in the first round of women's singles.
On July 1, Gauff won both sets against Venus Williams 6-4, 6-4, in what was the most-anticipated match of the day. (Per ABC, Gauff is currently ranked No. 313 in the world, whereas Williams is ranked No. 44.) Now, Gauff will go on to play 2017 Wimbledon semifinalist Magdalena Rybarikova.
After Gauff's win, she immediately broke down in tears, and went on to praise Williams for being a longtime source of inspiration. "I wouldn't be here if it wasn't for her," Gauff said in a post-match interview. "I told her she was so inspiring, and I've always wanted to tell her that but I've never had the guts to before."
In another post-match interview with BBC, Gauff said she's "literally living [her] dream."
Williams recognizes Gauff's immense talent.
Williams only had kind words for Gauff after the match. Speaking of her potential, Williams told reporters, "The sky's the limit."