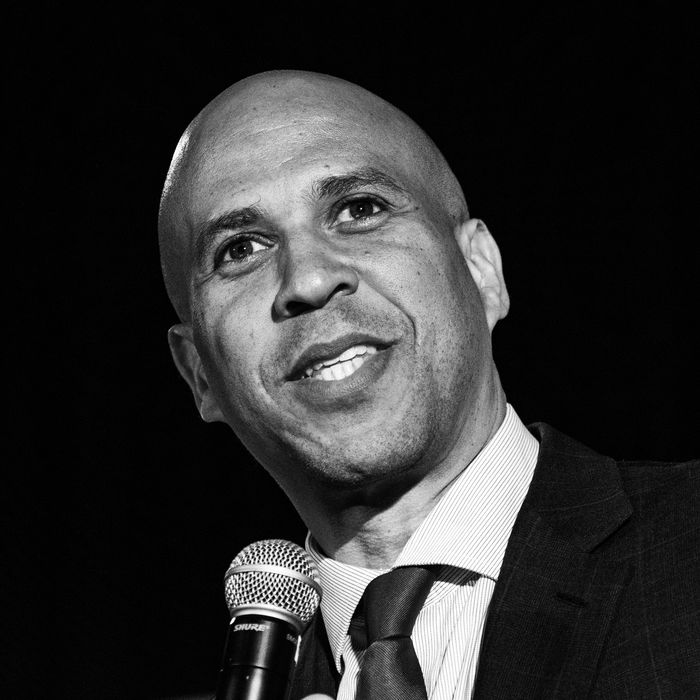 Photo: Dustin Chambers/Getty Images
No one can bench press America like Cory Booker. His style of politics is energetic, encouraging, and repetitive. The New Jersey senator and Democratic presidential candidate loves to talk about the gym or like he's at one currently — on top of which he is the Sisyphus of challenging his political opponents to competitions of strength.
Most recently, Booker told NBC's Seth Meyers on Monday that he sometimes feels like "punching" President Trump, but that Democrats can't win by "fighting him on his tactics." Booker added, "My testosterone sometimes makes me want to feel like punching" the president, but, again, he puts party first. The Hill reports that Booker also referred to Trump as a "physically weak specimen," pointing out that a punch would "be bad for the elderly, out of shape man that he is."
Sounds like a challenge to me! These comments echoed those he made in April, when the idea of punching Trump in the face first arose. They also bore some resemblance to Joe Biden's recent failed attempt at organizing a push-up contest between himself and Trump.
It's not the first time Booker has referenced his physical strength in a political arena. Here he is prepping for last month's Democratic debate.
Then there's his style of politics. In June, when the New York Times released its series of rapid-fire interviews with 21 democratic candidates (excluding Biden) on a variety of topics ranging from the regulation of tech giants to sleep schedules, Booker came off as by far the most juiced. I watched every one of them just for a glimpse of his eyes, bulging like biceps mid pull-up, and the sound of his athletic voice clearing hurdles and stepping on rakes in equal measure. In response to the question "What is your favorite comfort food," Booker said, "Veggies on the go," exemplifying, as ever, that pauses make him uncomfortable.
You know when teens will write an admiring line about a public figure in the vein of "run me over" or "punch me in the face"? The opposite of that is Cory Booker, who begs America every day to punch him in the stomach as hard as it can.