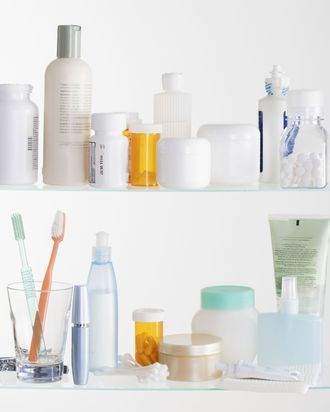 Photo: Tetra Images/Getty Images
I once dated a guy who gently suggested, while I was complaining about what to put on my skin to make my acne go away, that I might be better served by "just leaving it alone." I snapped — "What do you know?" — and he apologized. Meanwhile, I was on three different prescriptions, and I'd switched from one antibiotic to another, since the dermatologist worried I'd gotten immune to the first one. I was also piling on cheap makeup every morning and scrubbing it off each night. The prescriptions didn't seem to be doing much, although I used them religiously.
A recent story in Medium's health section, Elemental, examines why acne appears to be "more prevalent than ever." Despite concrete numbers being hard to come by, acne is apparently "on the rise" among both teens and adults, and in particular among women. The dermatologists whom author Markham Heid spoke with suggest that some of the most common and popular acne medications, like benzoyl peroxide and salicylic acid, might in fact be affecting the skin microbiome in such a way that acne bacteria is then encouraged to flourish. Harsh cleansers might do the same thing, as might certain antibiotics and foods. "What we put on our skin can improve or disrupt the survival of these [skin] microorganisms," said one dermatologist. "This is something we didn't know before, but we're paying attention to now." (It also makes me think of the surging microbe-friendly skincare market, which produces products that purportedly keep healthy face bacteria in balance.)
The Elemental story also cites a statistic that roughly one-third of adult women have acne, while only one in five men do. The causes and solutions for acne are notoriously hard to pinpoint, as anyone who suffers from it will tell you. But I like the idea that these male-female numbers might be vaguely related, and that the more we do to our skin, the worse it gets. (I'm generalizing, of course — I know that many men have elaborate skincare routines while many women do not.) It's a tempting and maddening idea, anyway. The guy I dated who suggested the "less-is-more" approach (which is what the dermatologists Heid spoke with also recommend) had beautiful skin — he still does, last I saw him — and I remember being frustrated that people like him, who seemed to do nothing to their skin, product-wise, often had flawless complexions.
Later these facts seemed less paradoxical, and they informed my own approach to skincare: I'm still washing my face only with water, although I did also get a number of washcloths. My skin seems calmer and gets fewer pimples than it did when I was using a bunch of products and prescriptions, which I'm happy about, although I still have no idea what caused my acne in the first place, or what eventually made it go away (for now — knock on wood). Hormones? For a long time I was convinced it was my diet, which I still imagine played a factor, and at other times I've even toyed with the idea that it was psychological, some kind of psychosomatic result of looking in the mirror too much. I have no idea.