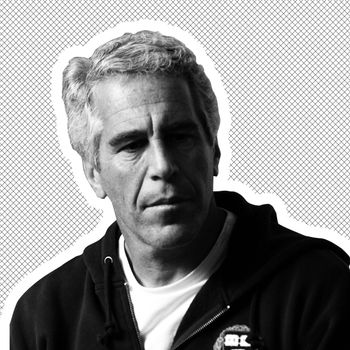 This week, the mysteriously wealthy accused sex trafficker Jeffrey Epstein traded his Beaux-Arts mansion for the Metropolitan Correctional Center. It looked a lot like belated justice for the dozens of women he is accused of abusing when they were minors. The question is whether this time it'll stick.
After all, in 2007 a sweetheart non-prosecution deal negotiated with the U.S. Attorney's Office in Miami kept him out of federal prison, despite at least 36 underage girls saying he sexually abused them. Epstein instead pleaded guilty to two lesser state charges, serving a 13-month sentence that allowed him to spend six days a week at his office. Some former prosecutors have been confidently predicting that Epstein, 66, is about to finally be held accountable. But not everyone is so sure.
"Anybody who suggests there's something easy in this case haven't given it much thought," says Scott Greenfield, a criminal-defense attorney. "If I'm a member of his defense team, I'm going to throw every argument possible against the wall." Says Solomon L. Wisenberg, who co-chairs white-collar defense at the firm Nelson Mullins and who was Ken Starr's deputy in the Whitewater investigation, "I think that he'll lose. But I don't think it's an open-and-shut question at all." (In 2007, Starr was on Epstein's defense team.)
Here's how Epstein could and couldn't keep himself out of prison for the rest of his life.
Epstein's lawyers will likely argue that this prosecution is illegitimate because of the original non-prosecution deal. "To us, this indictment is essentially a do-over," Epstein's attorney Reid Weingarten told the judge at Monday's hearing in New York, adding that the agreement "sure seemed like a global solution to everyone at the time, including my client." Much will come down to how the unusual language in the agreement is interpreted: On the one hand, it says Epstein "seeks to resolve globally his state and federal criminal liability," and on the other, it has several mentions of "in this district," meaning South Florida, not Manhattan.
The Feds have already argued that they didn't sign off on the agreement and that it doesn't apply to victims outside Florida, of which they say there are dozens. In a Monday letter to the judge outlining why Epstein shouldn't be let out on bail, prosecutors pointed to court precedent that says that an agreement in one federal district "does not, unless otherwise stated, bind another."
Epstein's lawyers will probably argue that he can't be tried twice for the same crime. Weingarten previewed this argument on Monday, saying that "for due process reasons, double jeopardy reasons, we don't think [the prosecution] will stand." But this one will likely be met with skepticism. "Epstein never even got to the position of first jeopardy in Florida," says former SDNY prosecutor and CNN legal analyst Elie Honig, because Epstein avoided federal charges by pleading guilty to state ones. Still, the unusual deal might offer a creative possibility, says Wisenberg, "I would argue, if I were his attorney — I think this is a long shot, but it's not crazy — this isn't a normal state prosecution. This state prosecution was part of a federal non-prosecution agreement. He didn't get his federal agreement until he agreed to state charges."
They could also argue his constitutional right to a speedy trial has been violated. Over a decade has passed since prosecutors closed the investigation against Epstein on similar charges. "If they had all this information in 2008 at the latest," says Greenfield, "that very well may come into play as to whether a 10- or 11-year delay in a prosecution prejudices."
But there might be more recent abuse allegations. Prosecutors said in court that new victims have emerged since Epstein was arrested over the weekend, and they've encouraged more to come forward. Depending on what they learn, that could still provide a path to charge Epstein even if a judge rules that the non-prosecution agreement applies to new victims from the same time period. "Are there new crimes that are being committed subsequent to the non-prosecution agreement? Those are definitely not covered," says Greenfield.
And prosecutors could bring entirely new charges — like possession of child pornography. In their letter to the judge urging that Epstein be denied bail, prosecutors said that when they searched Epstein's Upper East Side mansion, they found "at least hundreds — and perhaps thousands" of photographs of possible victims; "some of the nude or partially-nude photographs appear to be of underage girls, including at least one girl who, according to her counsel, was underage at the time the relevant photographs were taken."
If all else fails, Epstein's attorneys could try to get a deal by offering his cooperation or he could plead guilty to a lesser charge. But don't count on it. "In my experience as a prosecutor involved in trafficking cases in the SDNY, that office is not in the practice of giving slap-on-the-wrist deals to sex offenders and will prosecute the case fairly but with appropriate zeal," wrote Mimi Rocah in the Daily Beast. Cooperating, says Honig, is his "best chance to get a lower sentence. But even if he cooperates, he has to be willing to give up everybody and everything that he knows about." Namely, his famous and powerful friends and possible clients. Monday's bail hearing should give some sense of how things will go, Honig says. If the judge keeps Epstein locked up, "that changes the whole psychology." The lifestyle downgrade alone might pressure Epstein to plead guilty or try to cooperate. "Versus if he's out," Honig says. "He's going to play his away game and try to push it away and away."
That said, the Feds might not be inclined to make a deal in such a high-profile case. "I don't know if Southern District will have the stomach," says Honig.