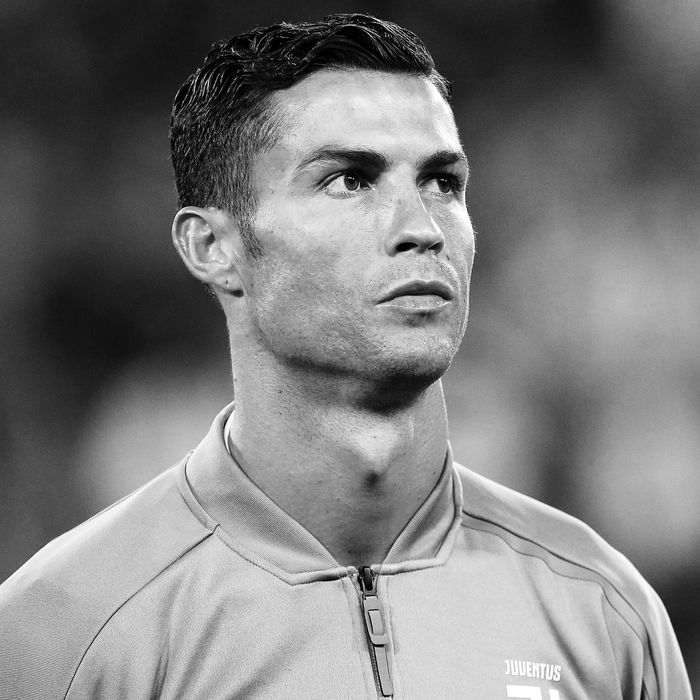 Cristiano Ronaldo.
Photo: Emilio Andreoli/Getty Images
Ten months after a woman came forward to publicly accuse Cristiano Ronaldo of raping her in a Las Vegas hotel room in 2009, the Clark County District Attorney's Office announced that the international soccer star will not face criminal charges, BuzzFeed News reports.
In June 2009, the Las Vegas Metropolitan police opened a criminal investigation after authorities responded to a report of sexual assault. At the time, the woman declined to describe the suspect or where the attack took place; that same year, the investigation was closed because she would not provide the aforementioned information. But nearly a decade later, the details of the alleged rape slowly started to emerge: In April 2017, the German publication Der Spiegel reported that Ronaldo had been accused of rape, though the accuser's name was still concealed. Then, in September 2018, the woman came forward to identify herself as Kathryn Mayorga, per the same publication. (Ronaldo has called her claims "fake news.")
According to BuzzFeed News, authorities once again closed the investigation on Monday, though they did so for a different reason this time. In a statement released on July 22, the Clark County District Attorney's Office said that though police had submitted the case for prosecution in early July, the district attorney would not bring charges against Ronald because the allegations against him "cannot be proven beyond a reasonable doubt."
In her 2018 interview with Der Spiegel, Mayorga, a former model and elementary-school teacher, said she met Ronaldo on June 29 at the VIP area of Vegas nightclub Rain, where he walked up to her and asked her to "come with [him]." She and her friend took Ronaldo up on his offer and followed him to his suite.
At the suite, Mayorga said, she went to the bathroom to change into clothes that Ronaldo offered her so she could get in the hot tub; while she was in the bathroom, Ronaldo walked in "with his penis hanging out of his shorts," she told Der Spiegel. "Basically he begged me to touch his penis for 30 seconds," she said, adding that he also asked her to "suck it." Eventually she said, "I'll kiss you but I'm not going to touch your nasty penis.'" After that, though, Ronaldo started to "touch [her] and grab [her] and go down on [her]," during which she repeatedly said no. Then, after he pulled her back into the room as she tried to leave with her friend, she said, Ronaldo raped her.
She continued: "After he assaulted me, he wouldn't let me leave again. And he was calling me 'Baby, baby.' He gave me this look, this guilty look."
(In September 2018, Mayorga also filed a lawsuit against Ronaldo in Nevada state court, claiming that he hired a team of fixers to coerce her into signing a $375,000 settlement and a nondisclosure agreement after the assault; in June, the suit was moved to federal court. She seeks to void the alleged settlement and agreement.)
When the sexual-assault allegations were first reported by Der Spiegel in 2017, before Mayorga came forward, Ronaldo's representatives released a statement calling the article "nothing but a piece of journalistic fiction." Then, after Mayorga identified herself in the Der Spiegel article published in 2018, Ronaldo's lawyer called the story "blatantly illegal."
Ronaldo, too, denied the claims, calling them "fake news" in an Instagram Live post. He also issued a denial on Twitter, referring to his "clear conscious" [sic].
This post has been updated with additional information.