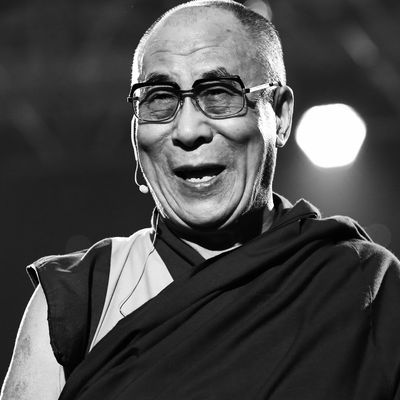 Photo: Neilson Barnard/2012 Getty Images
Good news, the Dalai Lama wasn't being serious about a female version of him having to be hot. It was all a joke! What a rapscallion, that Dalai Lama.
In a recent interview with the BBC, the Tibetan Buddhist icon had maintained his belief that if the next reincarnation was a woman, she would have to be good-looking. However, his office released a statement clarifying his comments. According to CNN, the statement read, "His Holiness genuinely meant no offense. He is deeply sorry that people have been hurt by what he said and offers his sincere apologies."
The statement also described the Dalai Lama as consistently emphasizing "the need for people to connect with each other on a deeper human level, rather than getting caught up in preconceptions based on superficial appearances." It also said he has "a keen sense of the contradictions between the materialistic, globalized world he encounters on his travels and the complex, more esoteric ideas about reincarnation that are at the heart of Tibetan Buddhist tradition." But that his "off-the-cuff" comments might lose their humor during translation.
"If a female Dalai Lama comes, she should be more attractive," he had told foreign correspondent Rajini Vaidyanathan, who had asked the Dalai Lama to clarify similar comments he'd made in a past interview with the BBC, when he said that a female Dalai Lama would have to be "very, very attractive." Otherwise, he added, there would be "not much use." The Dalai Lama first made similar comments in 2015, which received wide backlash at the time.
In the new interview, the Dalai Lama laughed while repeating the sentiment. People prefer to not see a "dead face," he told Vaidyanathan while twisting his face into a grimace. He also said that she should "spend money on makeup." When Vaidyanathan said that a lot of women might feel this kind of statement objectifying, and that the person should be judged on her character, the Dalai Lama agreed but said that, ultimately, both matter. "Real beauty is inner beauty, that's true. I think the appearance is also important," he said. In a tweet, Vaidyanathan said his response was "the most surprising moment in the interview."
Vaidyanathan also said that the Dalai Lama supports women's rights and believes in equal pay in the workplace. He also disagreed with Trump's handling of migrant children and says the president has a "lack of moral principle." Well, at least he's got some of this right.
This post has been updated.