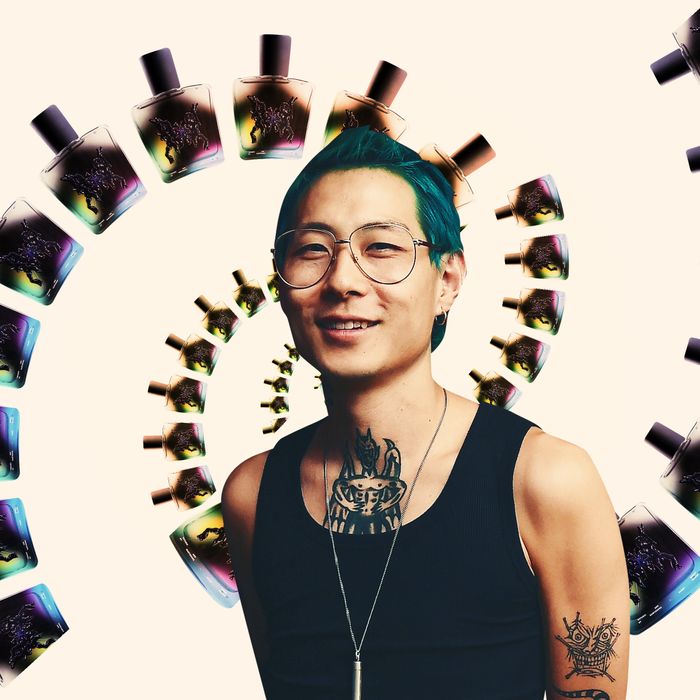 Call it the Proust effect: Memories are often triggered by smells. Scientific studies confirm that, of all the senses, smell offers the best recall. In Scent Memories, the Cut asks people about the scents they associate with different times in their lives. Next up is Danny Bowien, chef and founder of Mission Chinese Food. Bowien recently teamed up with Hawthorne, a men's fragrance company that customizes an entire regimen of grooming products based on a quick online survey that takes body chemistry, skin type, and lifestyle into account. Bowien collaborated on Botanic and Woody, a floral yet leathery scent of rose, blue chamomile, mandarin, and suede, that offers a fresh look at florals in men's fragrances. The Cut caught up with Bowien to talk burnt butter, jerk lamb, and SoulCycle.
My first scent memory is: The smell of humid, cut grass is probably one of the stronger ones. It's the scent, but it's also the temperature around it, too. I grew up in Oklahoma, but I was just in Texas last week on vacation with my girlfriend to visit her family, and I realized I hadn't smelled that in so long. No one's really mowing their lawn in New York City …
Happiness smells like: The first breath of air after exiting JFK, even though it's not a great smell. It's exhaust from cars, and gasoline, and people smoking cigarettes, and the smell of Dunkin' Donuts … but for me, it's relief. That feeling to me is the happiness of being home, being able to see my son, and being back at the restaurant after being away. I've never really missed home before because I never really felt like a place was home for me. I'm Korean, and I was adopted; I grew up in Oklahoma, and I moved to San Francisco for a while when I was 19. I would always go somewhere else and think Oh wow this is so cool, I really like it here. I'd never be like Man, I can't wait to get back home.
But I've lived in New York for eight years now, and oddly enough, I do miss it when I'm away. Another one would be, whenever a kid is first born. I have a 5-year-old son, and when he was a really, really, small baby he had this smell. He doesn't have it anymore, but I'd just smell his head all the time, it smells so soft. So soft. Happiness is also the smell of my son's head, which I will never smell again.
Love smells like: [Laughs] I don't know, good question! I was married for ten years, and honestly, I think the smell of love is like a fragrance: When you first spray anything on, it kind of has to sink in for a minute, and then you really get an idea of what it is. It adjusts to you in a way, and I swear this isn't just a blatant plug, but it is like the whole Hawthorne way. It reacts with me and my body, and my pH in a particular way. But you have to wait. In the beginning it's strong, it's really intense, there are things that you love about it, and things that you hope will mellow out, and that's what love is.
Friendship smells like: Summer. Not the beginning of summer, but the summer we're in right now. It's one of those things that you ache for and we've all wanted it for so long. It's like friendship: you really want this core group of people that are around you, support you, and love you. But then it gets here, and it's kind of exhausting. It's fun to the point of exhaustion, you know what I mean? You're like, Oh wait a minute, I'm not going to sleep as much as I did in the winter, I'm going to be out there and doing a lot more. You're happy that it's here, but sometimes you need a break from it — you need time for your self.
Heartbreak or loss smells like: The worst fragrance you could ever think of. It smells like chaos; like burning rubber. You want to get away from it. But it's also important to be comfortable around it. I remember as a little kid, someone ran over a skunk in the street, and I was like What is that? But you get used it. It's still uncomfortable and I still don't like it, but I know what it is, and I know it's going to pass, even if it lingers a little bit.
Success smells like: The dreamiest smell, like Tartine Bakery in San Francisco. You walk in there and you're intoxicated by this smell of croissants, laminated dough, and puff pastry. Butter and dark chocolate being melted down to be on top of an eclair, sugar glaze cooking in the back, and it just takes you over. I'd love to say that's all it smells like. But on the other end of that, as someone's melting butter, they can just as quickly burn it. I've seen some success and it takes some naïveté to deal with it because it comes with a lot of expectation. So, on a good day, it smells like Tartine Bakery. On a bad day, Tartine Bakery when they burn a batch of croissants. But it's still Tartine Bakery at the end of the day, and you can always make a new batch.
The worst smell is: Fear. But a literal worst smell? The hospital is a pretty daunting smell. When you're there, you know what it smells like; there's a lot of happiness sure, but a lot sadness. I also don't like the smell of public pools. Lake water, I like. Public pools, not so much.
Vacation smells like: Jerk chicken in Jamaica. I'm looking into going to Jamaica with best friend Lauren Devine soon for the Jerk Chicken Festival. I'm really excited about it. I'm taking some of our chicken wing spice from Mission Chinese Food, and I'm gonna do some Chongqing jerk chicken and jerk lamb, also. Jerk lamb is so bomb.
Sunday morning smells like: Coffee and muffins. Lately, my girlfriend and I will just walk around the West Village on Sundays and get lost. We try to sleep in, get coffee, and visit a bakery. You know, you're so good all week long, you gotta indulge a little bit. But sometimes it smells like SoulCycle too depending on the week we had. But 90 percent of Sundays smell like coffee and muffins. Ten percent smell like exercise.
Monday morning smells like: Coffee, breakfast, which is usually eggs, whatever I'm cooking my son, Mino, for lunch, and SoulCycle. Lately, he's really been into broccoli; he likes broccoli a lot, which I'm so thankful for as a parent. After I drop him off at school, I usually go to spin class because then it just smells like meetings all day after that.
My home smells like: The other day we came home, and my son was like, "Dad, what does it smell like in here?" and I said it smells like our apartment, and he said " … It smells like wood." I like to leave my windows open a lot in the summer, so I'd say it smells like palo santo, sandalwood, and the Italian restaurant I live above.
If I could have one smell on my hands forever, it would be: My hands always smell like onions or garlic because I'm always working, so whatever the opposite of that is. But it'd be a food smell, probably. Maybe like vanilla bean? Or citrus? I never get tired of the smell of citrus peels. I remember when I was a kid I'd go to the state fair with my parents, and they'd always buy this weird, citrus cleaner that was all-natural … Maybe both? No no, that'd be gross, I'd just smell like a creamsicle.
I smell like: Right now? Bergamot lotion, chicken wings, and lamb. And coffee. A really great combo. I'm fortunate that I don't get body odor, which is really weird and I don't understand why, but I absorb a lot of smells. There's bergamot lotion from the spin class locker room, chicken wings from the restaurant, and lamb from Kiki's, which I'm having right now.
If you buy something through our links, New York may earn an affiliate commission.