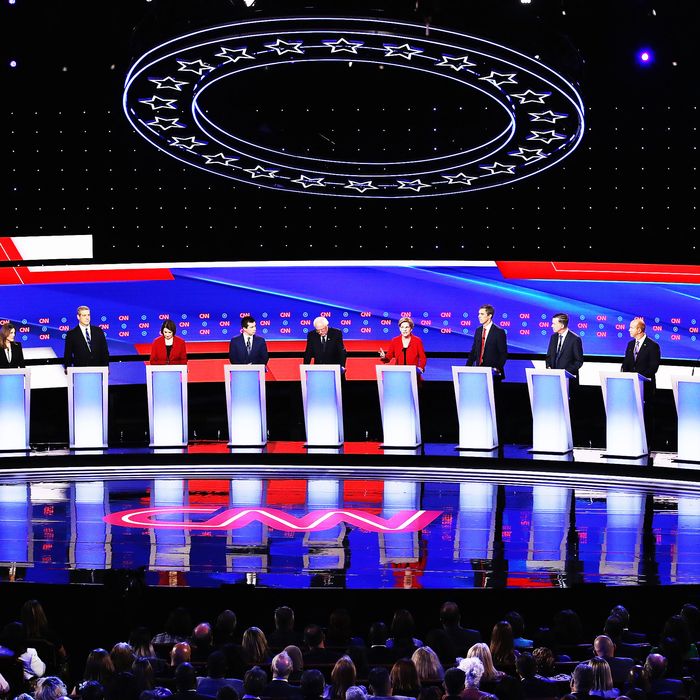 Photo: Justin Sullivan/Getty Images
Have you ever lived with a group? A sorority house, an apartment with roommates, or a polyamorous commune? Perhaps, like me, you once lived in a clothing-optional cooperative where one man routinely sat bare-assed on a carpeted floor, serenely eating his seitan nuggets?
If so, you, too, may have felt a deep, stressful sense of recognition while watching tonight's Democratic debates, where it was nearly as hard to discern what the nearly dozen candidates were talking about as it was to tell who some of them were. At the risk of sounding draconian, there were simply too many people up there, and too much concern about letting everyone speak — even those who have nothing, really, to say.
The debate was plagued by unidentifiable moderate Guys — John Hickenlooper, John Delaney, Steve Bullock, Tim Ryan, like the roll call at a Rotary Club meeting — who came ready to pontificate vaguely about the dangers of socialism and "radical politics" and, if you're Ryan, how you want to create a "Machinery Officer" and "dominate the battery market." This left the politicians with visions beyond "I'm not Trump," like Elizabeth Warren and Bernie Sanders, to respond to their squabbling instead of focusing solely on where they stand on actual issues. And with moderators like Jake Tapper interrupting with curt "Thank you"s like an RA, even substantive discussions were largely cut off.
To wit: Bullock, who barely qualified for the last debate because he was polling at less than one percent, had the fourth-longest speaking time tonight. Not to be a prude, but our open relationship with every Tim, John, and Steve isn't working.
The members of my college dorm where one could roam unburdened by even underwear understood that our grand experiment meant that sometimes it would take four hours to decide if it was "in line with our ethos" to screen Gossip Girl in the common room. That was the bargain we made in order to remain spiritually pure. But somehow our conversations felt less frustrating than this one, and at least we affected real change (yes, Gossip Girl could be shown, if it was a new episode and didn't interfere with anyone's sense of peace).
This article has been corrected to say it was Tim Ryan, not Steve Bullock, who discussed creating a "Machinery Officer" and "dominating the battery market." Sorry, it's hard to tell them apart.