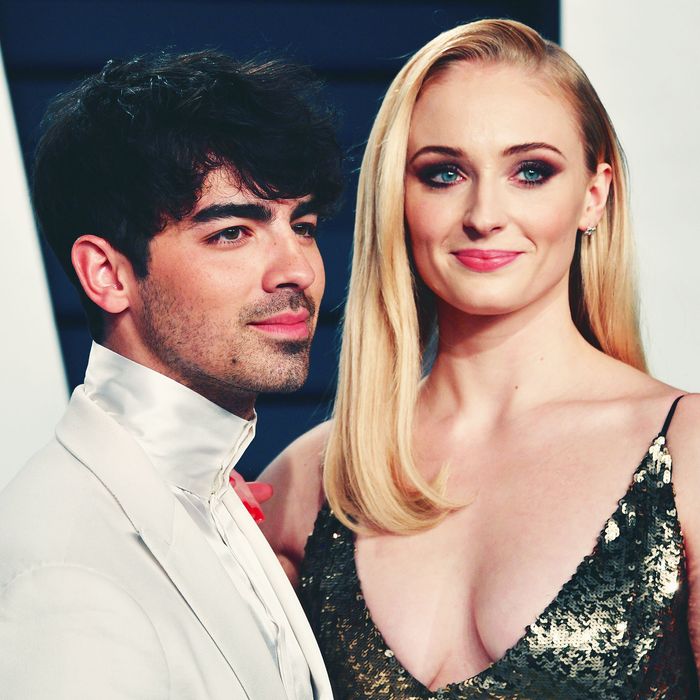 Joe Jonas and Sophie Turner.
Photo: Dia Dipasupil/Getty Images
Twenty-somethings Joe Jonas and Sophie Turner got married for the second time this year in the south of France on Saturday. Their Vegas wedding in May, a legally binding ceremony that got leaked by Diplo, was sweet, but in the age of second weddings (to the same person!), apparently not enough. Here's what we know about wedding No. 2.
Why another wedding?
A source told Entertainment Tonight, "Sophie and Joe knew the moment they decided to tie the knot in Vegas that they would do it 'right' the second time around. They both are spontaneous and loved their Vegas wedding but there was never a question as to if they would get married 'properly,' as they referred to it, later in the year."
The Château
The wedding was conducted at the Château de Tourreau in the South of France. For the ceremony, white flowers and glass candles were installed in the aisles, a design touch E! News describes as "elegant."
Mais bien sûr
According to ET's source, Jonas and Turner "just needed to plan so they could create a perfect fairy-tale, which is what they did. Sophie wanted to have a very traditional, almost royal wedding and never ever considered wearing anything but white. France was the obvious choice for both of them because they felt it's not only truly beautiful, but also an ideal spot in the summer for everyone to come together."
The source added that the couple "wanted an ultra-private wedding in the South of France."
A practical choice, really.
Le pre-game
According to E!'s source, "Sophie was drinking Champagne with her girlfriends and brunch was also delivered. Joe had a few shots with his groomsmen to ease the nerves."
The maid of honor wore white
Maisie Williams was Turner's maid of honor.
The dog wore human clothing
The couples' dog, Porky Basquiat, was a groomsman and forced to don the traditional wedding costume despite his natural tuxedo tones.
Dr. Phil was probably there too
Even though he nearly mucked it all up by revealing the couple's wedding date in the manner of a boomer confounded by Instagram and its distinction from email, we know that the TV doctor was invited and therefore probably in France this weekend doling out frightening life advice to intoxicated influencers.