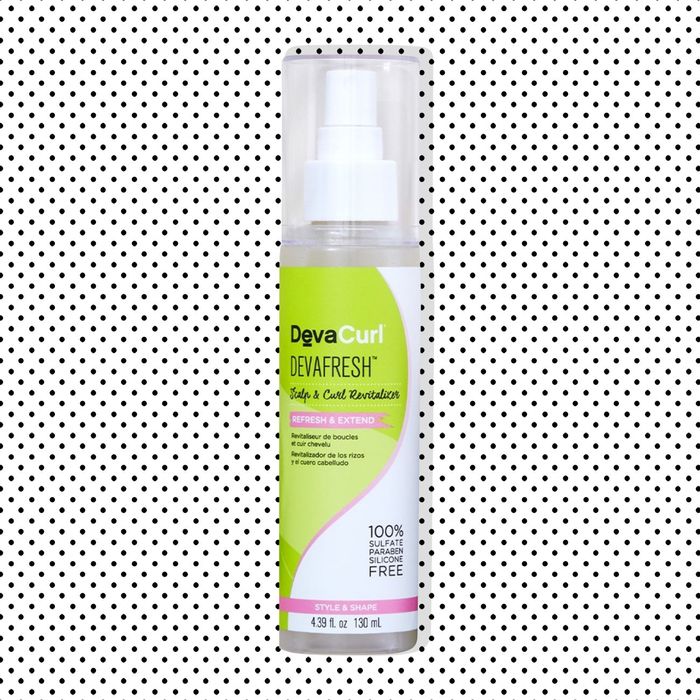 Photo: Courtesy of the Retailer
Every time I remove a protective style, a sense of dread sets in. Sure, a part of me is excited to reunite with my curls and return to a life of really big hair. But the other, slightly larger part of me can think only about returning to a life of co-washing, detangling, deep conditioning, more detangling, leave-in conditioning, plopping, prepping, twisting, various methods of stretching, re-wetting, gelling, oiling, and repeating a step or five if my curl pattern doesn't emerge as planned.
Once I garner the strength to exit that thought-spiral, I begin to long for the simple dry-shampoo situation some people have — the one where you spray, zhoozh, and your blowout or what-have-you lasts a few more days — but without the whole "dry" part. Apparently, DevaCurl heard my prayers and came up with DevaFresh, essentially a wet, curly-person version of dry shampoo.
The spray comes out in a superfine mist that feels and smells lightweight: two factors that are much appreciated in a curl restyler, considering I typically already have roughly two pounds of product on my hair on a good day. A few spritzes and some scrunching are enough to wake curls up and get them back to the shape they were in before you squished them in your sleep and/or exposed them to 90+ degree heat mixed with 80+ percent humidity and the occasional thunderstorm.
Like typical dry shampoos, this also gives sweaty or oily scalps a nice clean-and-refreshed feeling, but unlike those powdery concoctions, it moisturizes your roots and the surrounding area instead of soaking everything up. In other words, yes, I'll continue spritzing this all over my hair, even after it all inevitably goes back into braids at the end of the month.
If you buy something through our links, New York may earn an affiliate commission.