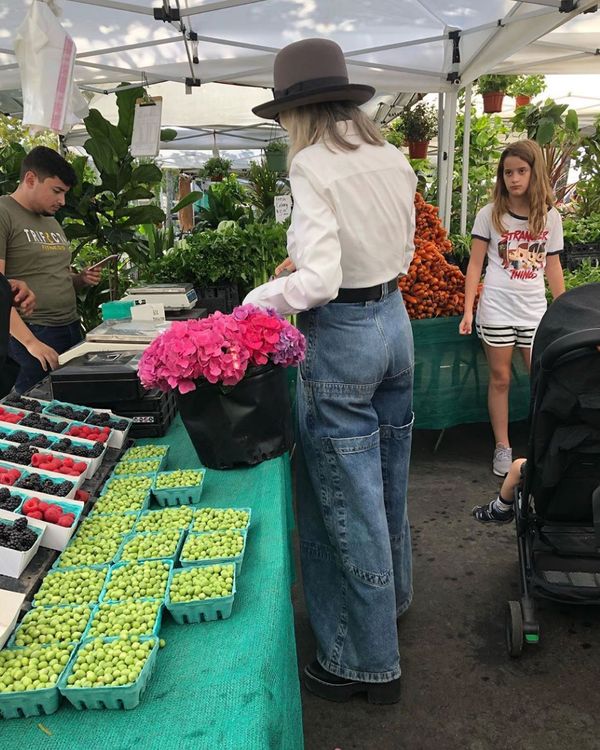 Diane Keaton.
Photo: nmeyers/Instagram
Diane Keaton wears many hats. Seriously, she's been known to wear at least five stacked on top of her head. But she's also an actress, photographer, real-estate developer, wine connoisseur, and now, an Instagram personality who not only owns many hats, but also a single pair of GREAT PANTS.
Over the weekend, Keaton went to the farmer's market with her pal, Something's Gotta Give director Nancy Meyers. She wore — you guessed it — a hat, plus a white button-up shirt, and her favorite pair of jeans, which have a wide flare and deep pockets at the back.
Meyers, being the proud friend that she is, shared a photo of Keaton's outfit on her own Instagram, where she has 79,900 followers (including Lindsay Lohan, who she knows from their Parent Trap days). The caption read: "[Diane Keaton] and I went to the Farmer's Market this morning. She carried my pink hydrangeas. First time she has ever been that close to anything pink. But how about those jeans!"
Keaton has said before that she prefers to wear all black, which explains why Meyers joked about her proximity to the color pink. But how about those jeans, indeed! They seem tailor-made for a farmer's market haul. "She doesn't need bags with those pockets!" commented Desperate Housewives star Marcia Cross.
"You both have the best style!" wrote another commenter, to which Meyers responded: "I was in yoga pants and a sweatshirt!"
"The girl in the background has no idea she's in the presence of an ICON," joked Keaton herself, who recently told InStyle that she's still getting used to people calling her that.
Many wondered where, on earth, Keaton acquired such a perfect pair of farmer's market pants. Some speculated that they were JNCO jeans, which is a good guess, considering their shape. But Keaton has made MUCH ADO about these pants before. After she shared a photo of them on Instagram this spring, celebrities including Jennifer Garner, Debra Messing, Aubrey Plaza, and Tracee Ellis Ross all commented on their greatness. "WHO MAKES THEM???" wrote Gwyneth Paltrow.
The answer is Maison Martin Margiela. "THESE PANTS ARE GENIUS! THEY COULDN'T BE BETTER! THEY'RE THE BOMB! SO GLAD YOU LIKE THEM!" Keaton wrote in a follow-up post.
Unfortunately, these genius jeans are a bit out of our price range, running the cost of around 100 baskets of farmer's market blueberries. But we echo Ina Garten when we say: "Can I come with you next time?"