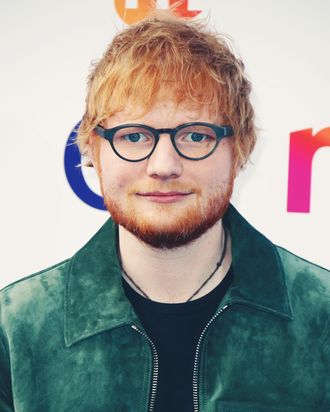 Photo: Mike Marsland/Mike Marsland/WireImage/Getty Images
The subject of this year's hottest summer scandal is shaped liked a bean and is owned by a potentially duplicitous ginger musician. Yes, it's Ed Sheeran's pond — or is it his pool?
Sheeran's neighbors have alleged that a kidney-shaped "wildlife pond" Sheeran built on his property in Suffolk, England, is actually a pool where he plans to have raucous parties. And how do they know this? Because he has strategically placed bales of hay around the offending body of water to conceal its true nature.
This is only the latest twist in a roller-coaster ride of council negotiation regarding the so-called pond. Sheeran won the right to build it in 2016 after successfully arguing that it would support nature, like "dragonflies and water beetles," and would strictly not be for "leisure use." He claimed a "jetty" and a set of stairs were built not for people to dive in from but for maintenance purposes. And now, there's the strategically placed hay-bale fence (which the Daily Mail obviously spent money to take high-quality satellite photos of). Hmm.
Sheeran will have to answer for his alleged construction crimes next month, when he supposedly may or may not host a late wedding celebration at the huge bean-shaped pond, which may or may not be a huge bean-shaped pool, and which will likely confirm for neighbors once and for all that it's not dragonflies and water beetles who are making all that ruckus. It's Taylor Swift.