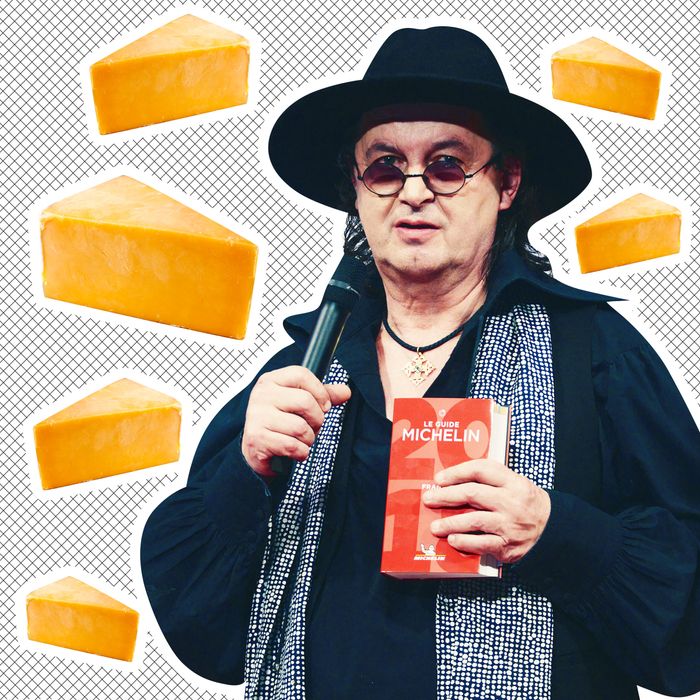 I have some very French news for you.
On Thursday, several publications, including Le Point and Le Monde, reported that Chef Marc "Je Suis Bébé" Veyrat, owner of fancy restaurant La Maison des Bois in the Haute-Savoie region of France, had penned a letter in disgust over his alleged ill treatment by the people who make the Michelin guide, a handy red book filled with the succinct thoughts of professional food inspectors.
Veyrat is really going through it. He writes in his formidable complaint addressing the Michelin guide makers: "I have been depressed for six months. How dare you take the health of your chefs hostage?" So outraged is he that he's demanded that his restaurant, which recently dropped in the guide's estimation from three to two stars (still a lot of stars), be removed from the book.
The chef, who according to The Guardian is "known for his signature black hat," went on to accuse the inspectors of "profound incompetence." His main gripe? The inspectors allegedly misidentified the cheese in his cheese soufflé, naming it as "cheddar," a ubiquitous American cheese that can even be found in a Taco Bell, or sometimes, the garbage. Veyrat explains:
"They dared to say that we put cheddar in our soufflé of reblochon, beaufort and tomme! They have insulted our region; my employees were furious … When we have eggs from our chickens, milk from our cows, and two botanists collect our plants every morning!"
The Guardian reports that, nonetheless, there is no mention of the cheese used in the restaurant's soufflés in its latest guide. Michelin has refused to remove La Maison des Bois from the guide.
Veyrat's dining establishment is extremely expensive (The Guardian reports that its "starry celebration" menu costs nearly $500), and features dishes like "illusion of caviar" and "king prawn cooked in spruce bark." The restaurant grows much of its own produce, raises its livestock, and bakes its own bread. Michelin calls it "extraordinary" and "worth the detour." On his personal website, Veyrat describes the experience of dining at La Maison des Bois as "a veritable pastoral and mineral symphony in which nature's bounty is displayed in each and every dish."
Veyrat, my man, please go on Chopped.