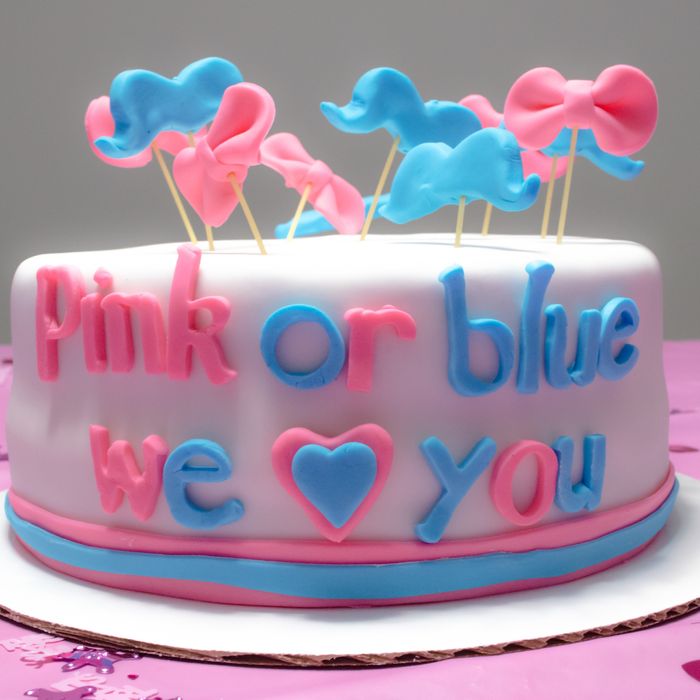 Photo: Beautyinoddplaces/Getty Images/iStockphoto
In the past decade, gender-reveal parties have exploded from a mere parenting trend to becoming the new normal. But now that more of the population is rejecting the idea of gender norms, a pink or blue-themed party feels archaic. One of the trend's trailblazers is even having second thoughts about her role in perpetuating it.
When Jenna Karvunidis was pregnant with her first child in 2008, she blogged about revealing the baby's gender to her friends and family with a pink cake. It was "a milestone," she tells The Guardian. "I had had several miscarriages. It was like, 'Oh yay, I'm finally at a point in my pregnancy where I know if it's a boy or a girl' rather than 'Let's saddle this kid with a whole identity,'" she said, adding that she doesn't think most people were really questioning that way of thinking back then. Word of her party's theme spread, and she began noticing more would-be parents throwing gender-reveal parties of their own.
By 2019, the trend seemsed to have reached its breaking point due to over-the-top, embarrassing, and even dangerous consequences that ranged from disgusting-looking food to a 47,000-acre forest fire. Karvunidis says she started to feel guilty. "Then I started to realize that nonbinary people and trans people were feeling affected by this, and I started to feel bad that I had released something bad into the world," she said. Her daughter, who had been the motivation for her party 11 years ago, doesn't conform to gender stereotypes herself, opting for suits and blazers rather than dresses. "I'm letting her lead me," Karvunidis said. "She has her opinions about there being many genders and she is informing me about things. She was biologically born a female and she is still 'she' and 'her' and says she's a girl, but she is still doing things her way."
Still, Karvunidis says if people still want to throw these types of parties, she's not trying to stop them, but adds that gender "isn't the most important thing" about a person. "Let your kids just be who they are," she said.