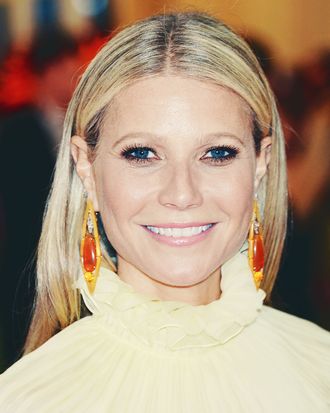 Gwyneth Paltrow.
Photo: Broadimage/Shutterstock
"God is dead," philosopher Friedrich Nietzsche wrote in 1882, in what many believed was a commentary on the consequences of the Age of Enlightenment, but now appears to have been a prophecy about Goop's first U.K. wellness summit.
According to "Page Six," some guests at the wellness company's weekend summit in London last week left with metaphorical jade bees in their yonis, saying that the whole event was a long, expensive Goop sales pitch, and that Goop empress herself, Gwyneth Paltrow, "did the minimum."
"Gwyneth acts like she's a health goddess, but actually she's a pretentious, greedy extortionist," one attendee told "Page Six". "She had a ton of security … She was unapproachable. She did the minimum — a few fireside chats with Twiggy and Penélope Cruz, then she put on her Birkenstocks and snuck out … I was a huge fan of Gwyneth; now I feel like I have lost my faith in God."
Another attendee apparently agreed, saying of Paltrow in a WhatsApp group of fellow guests, "GP is a f ucking extortionist."
The two-day summit, which included, per the Goop website, "restorative workshops and classes — for the spirit, for the body, for the mind, and for beauty — plus our signature retail hall and food from our local plant-based haunts," cost guests roughly $5,700, including $1,300 for two nights in suites at the Kimpton Fitzroy London Hotel (with gluten-free breakfast included).
In response to the criticism, Goop told "Page Six" that the weekend was a steal, really, as the true value of the summit was "over $8,000 because of free extras including golden facials and 'far-infrared gemstone therapy' as well as health panels not connected to Goop."
The wellness company also said that they had not received negative feedback. "[It] was more along the lines of, 'Thanks for an amazing weekend!' "
It is unclear just how many butts were pumped full of coffee over the course of the two days.
Update:
In an email to The Cut on Wednesday, a Goop representative said:
"The overwhelming response to our London Summit was incredibly positive. It should be noted that the actual value of the weekend package was over $8000. The cost included a hotel suite (valued at $1600) and a gift bag valued at $3000, among other items. During the event, Gwyneth opened the day, conducted three fireside chats (almost half the day's panels) and hosted a workout and Q & A the next day."