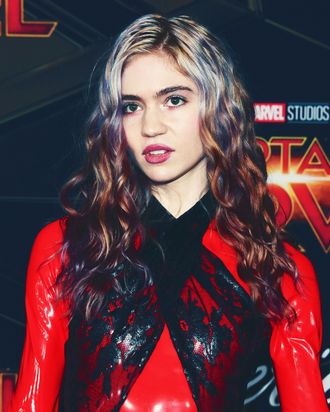 Photo: Robyn Beck/AFP/Getty Images
It's obviously irritating when celebrities with all the best access to trainers, healthy food, spa treatments, surgeries, and therapy claim that they get their skin so good by eating crap food and focusing on the positive, but Grimes's elaborate self-reported "training regimen" is even more emotionally draining. Almost certainly it's a jokey commentary on such a routine, a flat-out troll, or performance-art piece. Because if not, it would be the most baroque, machine-assisted time suck imaginable. I say this as a person who sometimes relishes going to the gym.
On Monday night, the singer-songwriter posted on Instagram about her workout routine, apparently as promotional material for her new collaboration with Stella McCartney for Adidas. It's very involved. The "360 approach" goes as follows:
1. "Incredibly visceral" mitochondrial supplements "such as NAD+, Acetyl L-Carnitine, Magnesium, etc."
2. Anywhere from two to four hours in a sensory-deprivation tank, which affords her the ability to "'astro-glide' to other dimensions — past, present, and future."
3. Sword fighting, one to two hours.
4. Cool off with 30 to 45 minutes of inclined hiking.
5. Stretching.
6. Screaming session "while I slow boil the honey tea that maximizes vocal proficiency."
7. This: "I have also eliminated all blue light from my vision through an experimental surgery that removes the top film of my eyeball and replaces it with an orange ultra-flex polymer that my friend and I made in the lab this past winter as a means to cure seasonal depression."
8. Humidifier.
This collaboration between Grimes and Adidas is ostensibly about sustainable fashion that safeguards the planet while "pushing creative boundaries and inspiring women to unlock their potential in all aspects of their lives," according to McCartney. This statement has apparent synergy with Grimes's purported workout. It is also at odds with the concept album Grimes announced in March, which she described in an Instagram post as being "about the anthropomorphic Goddess of climate Change: A psychedelic, space-dwelling demon/ beauty-Queen who relishes the end of the world."
In conclusion, I know nothing except for this: Grimes could beat me up.