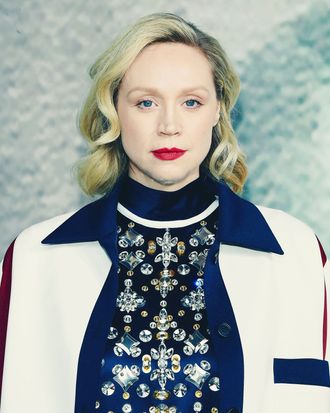 Gwendoline Christie.
Photo: Pascal Le Segretain/WireImage
After HBO made the strange decision to not submit Gwendoline Christie to be considered for an Emmy for her superb performance as Ser Brienne of Tarth in Game of Thrones, the actress tossed her own damn name in the hat — and got the nomination.
According to CBS News, HBO submitted three Game of Thrones actresses to be considered in the Supporting Actress in a Drama Series — Lena Headey (Cersei Lannister), Maisie Williams (Arya Stark), and Sophie Turner (Sansa Stark) — all of whose names appeared on the official Emmy nominations list on July 16. Also alongside those actresses was Christie, who self-submitted after HBO passed over her, the premium cable network confirmed to CBS.
Despite knowing that she deserved to battle it out for Best Actress, Christie appeared to be downright shocked to have gotten the nom. "I CANT BELIEVE IT!!!!!!????!?!!?!!!!!!!!!" she posted on Instagram, alongside a photo of what appears to be an official email notifying her that she is in the running. "THANK YOU UNIVERSE!!!!!!!!!!!!!!!!!!!" (The other two actresses nominated in the category are Fiona Shaw of Killing Eve and Julia Garner of Ozark.)
And, as it turns outs, Christie wasn't the only Game of Thrones actor forced to advocate for themselves. Per CBS, Alfie Allen (Theon Greyjoy) and Carice Van Houten (Melisandre) also self-submitted and received nominations. Altogether, Game of Thrones received a historic 32 nominations — a record they would've only just barely broken had three actors not submitted their own names.
Here's to hoping Christie wears to the award show an outfit as stunning as the one she sported to the Game of Thrones premiere!