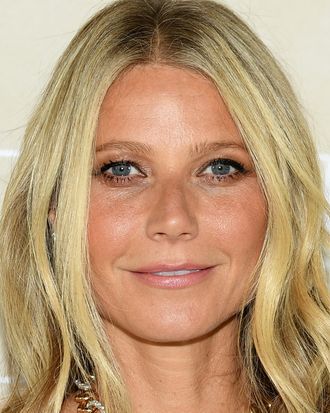 Photo: Pascal Le Segretain/Getty Images
After being a part of the Marvel Cinematic Universe for over a decade, you'd think Gwyneth Paltrow would be pretty familiar with her superhero co-stars. But Sebastian Stan, the actor known for playing Bucky Barnes in the Captain America and Avengers films, says Paltrow doesn't remember him, despite meeting several times prior and starring in two Marvel movies together.
In an Instagram post from Paris Fashion Week that shows Stan and Paltrow posing with the fashion designer Valentino, Stan alluded to Goop not being aware of his existence. "Glad I got to reintroduce myself to @gwynethpaltrow for the third time. We are in the same film," he wrote with the shrug emoji.
This isn't the first time Paltrow forgot about Stan. A video taken during the Avengers: Infinity War premiere seems to show Paltrow asking Chris Pratt who Stan was, Cinema Blend reports. "Who's that?," you can hear Paltrow ask in the clip, with Pratt responding that it's Sebastian Stan, aka the Winter Soldier.
Paltrow also recently learned she was on Spider-Man: Homecoming on an episode of Jon Favreau's new Netflix series The Chef Show. While talking about the movie, Paltrow said, "I wasn't in 'Spider-Man, I was in Avengers," and Favreau had to correct her.
Tom Holland, who plays Spider-Man, has also said Paltrow doesn't remember him. "I've only worked with Gwyneth one time on Spider-Man: Homecoming which she doesn't remember, which still to this day breaks my heart," Holland said in a video with PopSugar. He also mentioned a time when she asked for a photo with him and Robert Downey Jr. during the set of Avengers: Endgame. "I think she posted it and she said, 'Robert Downey Jr., myself, and this guy.' I was just the guy," he said.
What's going on here? Is this Mariah Carey-levels of "I don't know her" energy or is Paltrow just trolling her co-workers? (Which, if so, would be pretty hilarious.)
To be fair, the MCU is massive, with a million characters to remember. Or maybe Paltrow doesn't watch the movies she's in. Still, let's hope she remembers Stan the next time she meets him. Aren't there some memory-boosting capsules or a crystal egg on Goop that could help with this?