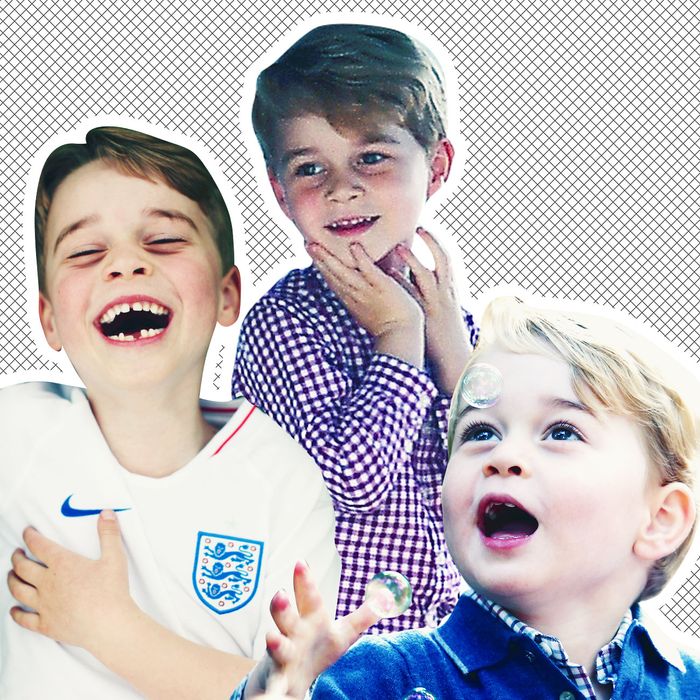 Today, tiny Prince George Alexander Louis of Cambridge turns six, an age that requires two hands when adults ask you how old you are. It's so exciting, to use the two hands, you know? In honor of the special occasion, as they do every year, his family released new portraits of the wee heir. All three of the 2019 snaps were taken by his mother, Kate Middleton: two on the grounds of Kensington Palace, and one more recently on their summer holiday. The location of the latter was not given, but it was most likely on the island of Mustique in the Caribbean, where they often escape this time of year.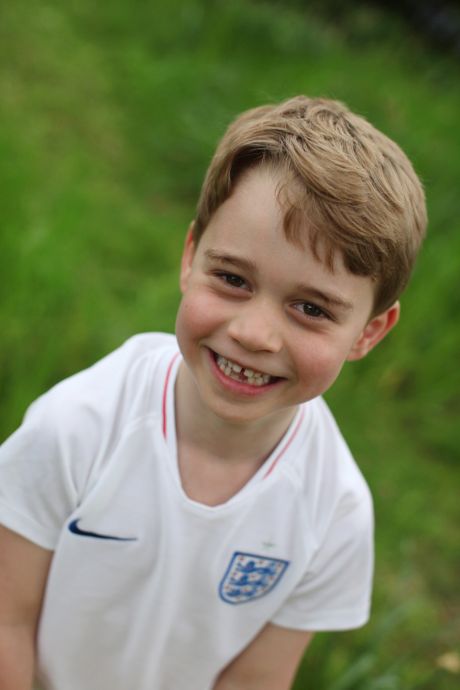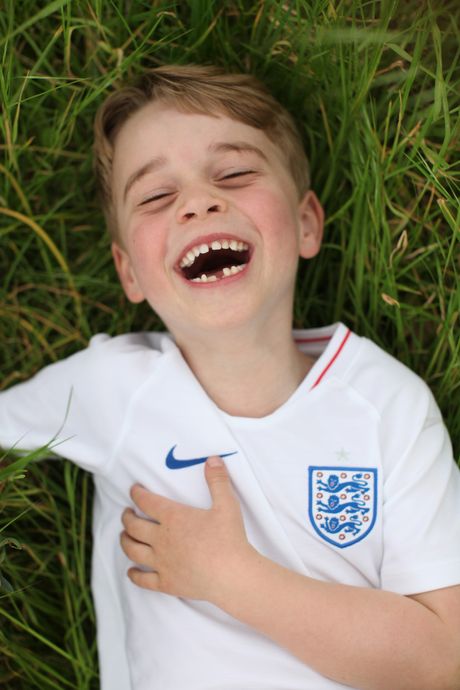 The jagged skyline of missing teeth in these photos! The football jersey for England (duh)! His resemblance to Kate around the big, round eyes, and to Prince William around the swishy blonde hair (RIP for William's hair, sad)!
Yes, it's a most excellent set of photos, which is in keeping with the past six years. Prince George has really given his subjects a lot of hilarious and heart-warming photo ops, due particularly to his extremely expressive face and his tendency to pout. A few favorites:
July 23, 2013
In the first appearance of his life, just a few hours outside the womb, Prince George proves himself to be strikingly adept at royal duty: He waves to the crowd above his swaddle! How'd he even get an arm out for this?
April 9, 2014
While on his first royal tour overseas, in New Zealand, Georgie pays his respects to his mother's resplendent hair, giving it a little smoothing down and looking incredibly serious while he does so.
April 20, 2014
Another highlight from the tour down under, his royal highness was introduced to a fluffy bilby at the Taronga Zoo in Sydney, Australia — and then became apoplectic when he was carried away from said bilby. Understandable, as they're really super cute creatures.
July 5, 2015
George gained a sister in May 2015, and two months later attended her christening wearing an particularly old-timey outfit from his father's archives (the 1980s weren't that long ago?). No sibling jealousy here: He was actually, adorably fighting to peek into the pram at Princess Charlotte's face.
April 22, 2016
While in Londontown to have lunch with the Queen (and beg the Brits, unsuccessfully, not to vote for Brexit), President Barack Obama popped by before Prince George's bed time to meet the future king while he was dressed in his finest gingham jim-jams and a matching robe.
September 29, 2016
On a royal tour of Canada, the Cambridges attended a kids' party for military families, which featured balloon arches and the utter magic of bubbles. Yes, he shall rule a country one day but for now the kid effing loves bubbles!
July 21, 2017
While doing the diplomacy thing on a tour of Poland and Germany, George hopped up into a helicopter and managed to hold his head together to keep it from exploding with joy.
June 10, 2018
How do you keep a future king humble? Violently pushing him down a hill in front of paparazzi cameras was the idea that his cousin Savannah Phillips had at this charity polo match. At least George seems to be amused by the whole thing!
July 10, 2019
Heavy is the head that will one day wear a crown. Which is why sometimes, you've got to hide in your mom's trunk and ponder the enormity of your life, as George did at yet another charity polo match a few weeks ago. Cheer up, kid! You've got at least a decade before the tabloids start dissecting your personal life.