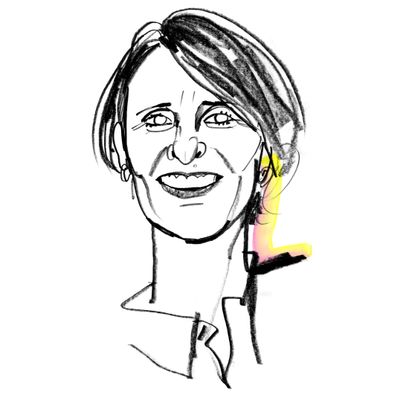 Heather Lubov.
Photo: Lauren Tamaki
Heather Lubov is the executive director of the City Parks Foundation, a nonprofit that offers free programs in neighborhood parks across New York City, including SummerStage, a series of nearly 100 free concerts. Lubov oversees the organization's year-round programming, which ranges from sports lessons to environmental-science classes. She also manages the Swedish Cottage Marionette Theater, the PuppetMobile, and Partnerships for Parks, which encourages volunteers to get involved in their local communities. Lubov got her start in the nonprofit world at Partnerships for the Homeless, then spent the next two decades leading fund-raising for the New York Public Library and the Park Avenue Armory. She lives on the Upper West Side with her husband. Here's how she gets it done.
On a typical morning: 
I'm not a morning person, but I'm up by 7 a.m. I'm an obsessive spinner, which is important because it keeps my stress level down for the rest of the day. I have a Peloton bike, and depending on my schedule, I do a half-hour class. I always have a huge breakfast afterward — yogurt, a hard-boiled egg, and toast. I'm not a caffeine person because it makes me shake, so I have one shot of caffeine in a latte and that's it. I have to read the front page of the New York Times before I leave the house. I shower, get myself out, and either take the bus or, if the weather's nice, use a Citi Bike to commute. It only takes about half an hour to get from my home to work. The summer is our crazy-busy season, so I usually get in a little later in the morning because I'm out late every night.
On her summer schedule: 
We operate year-round, but the majority of what we do is in the summer. I spend a lot of time meeting with my senior team one-on-one. I'm not trying to micromanage, but I definitely want to know what's going on. We work very closely with the Parks Department, so I'm often meeting with those folks as well. Once summer starts, I'm out doing site visits to see our sports programs or our education programs. I often take our board members or our supporters with me, so they can see firsthand what they're supporting.
Any good executive director of a nonprofit should spend half their time fund-raising, and that's pretty much what I do. I view my job as producer-in-chief. I'm not the person who's picking out the sports instructors or deciding what our curriculum is. I'm not selecting our artists. I wouldn't want to do that. I'm making sure the structures are in place to make sure we can keep doing what we do. So that's budgeting, that's fund-raising, that's marketing, and helping our team think about the strategic direction that our programs should take.
On producing SummerStage:
During the summer, we have a show almost every night, sometimes more than one. If we have a show, I try to make sure I'm there, which means I usually end up working from 9 a.m. to 10 p.m. every day.
It's important to us to program artists who are appropriate and relevant for each community that we're in. An artist you book in Brownsville is a very different artist from one you book in the South Bronx. We spend a lot of time thinking about what makes us distinct from other festivals, and a big thing is that we program a lot of artists of color and a lot of women. We're proud of the fact that, although the music industry is generally dominated by men, our festival is programmed by women. We know that our artists are politically savvy and concerned about social-justice issues, and when we put them on our stage, they have a platform to speak their minds.
On stress:
I love and enjoy the shows — there have been moments of incredible beauty — but I can't take that director hat off. I worry about the bathrooms, I worry about the lines at the concession stands, I worry about whether it's going to rain. It does kind of feel like this is my party and I have to make sure everyone is taken care of. Particularly in this climate, in this country, there have been a number of incidents with gun violence at concerts. We're a major venue and we're all over the city, so I worry about that, and part of my job is working with the police to keep our audiences safe. We're a nonprofit organization, so funding is always a challenge. There's always more that we could do and never enough money.
On managing her in-box: 
I'm obsessive about email. I can't have any unanswered messages in my in-box. I sound crazy when I say that, but I'll respond to email at all hours, which I probably shouldn't do. Otherwise, I won't stop thinking about it. As the head of an organization, you have to be available 24/7. We don't really have emergencies at 2 a.m., but if someone needs me — if there's something going on at the venue, if there's a security concern — I'm always available.
On the rewards of running a nonprofit:
What's so fascinating about going to a SummerStage show is that, because it's free, you just walk into your local park — there are no barriers at all. Everyone comes out. It doesn't matter who you are, it doesn't matter how much money you have. You come and you see a show together, and it's a shared experience. The energy in that space is incredible. That's what keeps me going when I'm exhausted night after night. People are coming together, and it's all peaceful and wonderful and joyful. If I go and watch one of our track programs, watching 7-year-old kids jumping little hurdles for the first time is the most adorable thing. And those kids are not going to forget that. They are going to know they used their local park to learn how to play tennis or to learn how to run. That's what's most rewarding.
On winding down the day:
After work, I check in with my husband, who's usually at home patiently waiting. I eat something, because the food in the park isn't always great and I try to be healthy. I hang out with my cats — they're probably the most calming influence. I try to finish the Times before I go to sleep, and I check Twitter and see what's going on in the news. I have to get myself to sleep by midnight, otherwise I'll be exhausted for the next day.