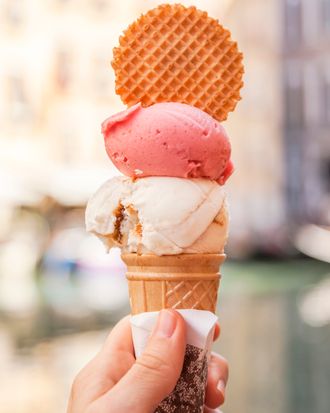 Photo: © Flavia Morlachetti/Getty Images
On social media in the summer, it's impossible to avoid ice cream. Beautiful people pose with beautiful cones in order to make some larger statement — usually being that it's hot outside and that they're hot as well. For those who tragically refer to themselves as "foodies," an ice cream photo is essential to keeping up a certain aesthetic. And now, a Los Angeles ice-cream-truck owner is so fed up with influencers, he's decided to charge them double.
According to a report in People, the founder of CVT Soft Serve, Joe Nicci, is tired of people asking for freebies. In an Instagram post, he wrote: "It's literally a $4 item … well now it's $8 for you," adding a hashtag for good measure: #InfluencersAreGross. Now, the truck is home to a sign telling influencers exactly how he feels about their requests for free ice cream.
In another Instagram post, Nicci emphasized his commitment to refuse all requests for free ice cream cones. He wrote: "We couldn't care less about how many followers you have, and we're super embarrassed for you when you tell us." He has a point — it's generally not a good look to talk about your follower count in any context, let alone to get out of paying a few bucks for an ice cream cone.
And while being an influencer does usually involve a serious business model, Nicci told People that since "their followers, likes, and comments can all be purchased," he has "… trouble looking at them as being reputable." Regardless of where they got their online power, compensation in the form of exposure is never cute.