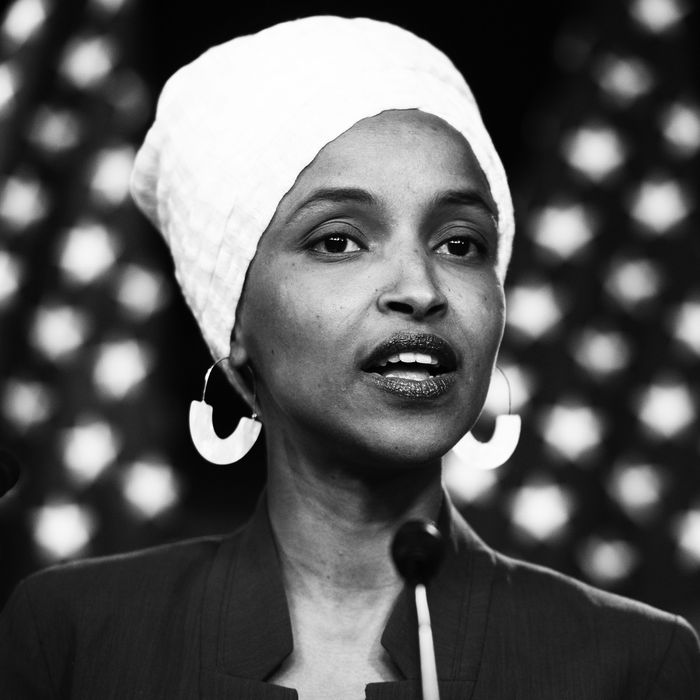 Ilhan Omar.
Photo: Tom Williams/CQ-Roll Call,Inc.
Congresswoman Ilhan Omar, righteously fed up with the prejudiced nonsense she endures day in and day out, called a question about female genital mutilation from an audience member at a recent event "frustrating" and "appalling."
Omar was serving on a panel at the Muslim Caucus Education Collective's conference in Washington, D.C., when an audience member, Ani Osman-Zonneveld of Muslims for Progressive Values, asked her to condemn FGM. "It would be really powerful if the two Muslim congresswomen, yourself and Rashida [Tlaib, a Democrat from Michigan], would make a statement on this issue," urged Osman-Zonneveld.
FGM, the partial or complete removal of the clitoris for nonmedical purposes, is a common practice among people in some countries in Africa, Asia, and the Middle East. It is banned or criminalized by at least 59 countries; in the U.S., it's considered a criminal offense in at least 27 states. Although FGM is a cultural rather than a religious practice, it is, as the United Nations Population Fund notes, "often perceived as being connected to Islam," and media coverage in the U.S. tends to focus almost exclusively on Muslim perpetrators.
Omar began by pointing out that she gets this question all the time, despite having verbally condemned and voted to counteract FGM on multiple occasions.
Your second question is an appalling question because there are bills that we vote on, bills we sponsor, many statements we put out, and then we're in a panel like this and the question is posed: 'Could you and Rashida do this?' And it's like, how often — should I make a schedule? Does this need to be on repeat every five minutes? Should I be like, 'So today I forgot to condemn al-Qaeda, so here's the al-Qaeda one, today I forgot to condemn FGM, so here it goes, today I forgot to condemn Hamas, so here it goes, you know what I mean?
Omar went on to note that Muslim politicians are compelled to make these sorts of statements, while everyone else is not. "I am quite disgusted really, to be honest, that as Muslim legislators we are constantly being asked to waste our time speaking to issues that other people are not asked to speak to," she said. "If you want us to speak as politicians, American politicians, then you treat us as such," she continued, to much applause.
The subtext, if you can call it that, is that Muslim politicians bear the brunt of questions about any violence perpetuated by Muslims, which is itself a form of Islamophobia. Omar knows well that the questions we ask our politicians reflect our own expectations of them and of the world we want. She's the rare politician who sometimes manages to ask more of us.