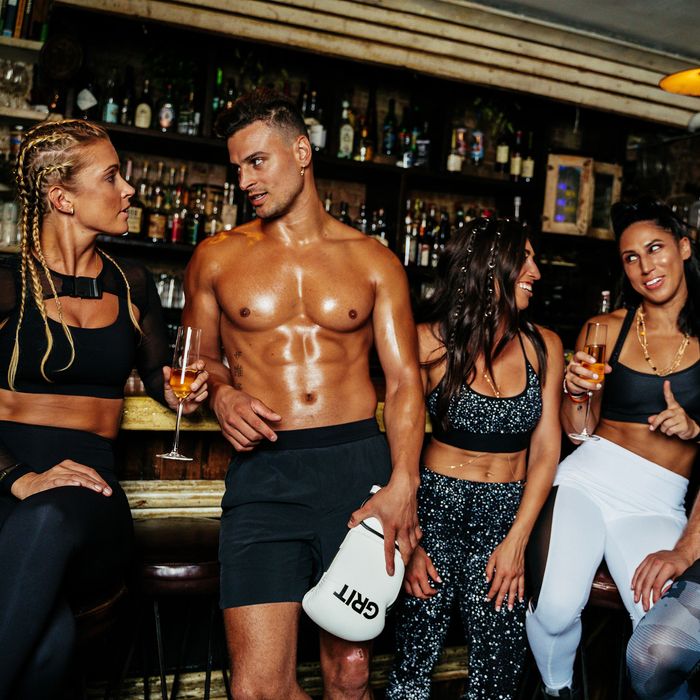 Photo: Courtesy of GRIT BXNG
In the world of wellness, it seems that nothing will stop humanity from punishing ourselves in ways as complicated and embarrassing as this mortal coil will allow.
With that, I give you: a Bitcoin-accepting, CBD-gazpacho-serving, gym–slash–members-only bar owned by Tony Robbins, Pitbull, and the guy who founded the Learning Annex.
With a collection of amenities that portends our hellish future, New York's GRIT BXNG, opening in August in Union Square, will include a "3 modality" workout and an immersive digital experience, as per a delightfully demented press release. Inside its hallowed halls, "instructors lead their classes from [a] stage in front of a giant video wall displaying the workout, music videos and motivational content," i.e., the wisdom of luminaries such as the aforementioned Robbins (accused earlier this year of harassing his employees), Pitbull, and DJ Khaled.
In addition to all this, the press release boasts of "insane artwork" by an artist who is a "favorite of Taylor Swift," a "sexy storefront" that features Swarovski-encrusted boxing gloves and punching bags, and an adjoining GRIT bar, at which participants can fill their taut, glistening bodies with cocktails, mocktails, and an assortment of mock-food.
This includes "low calorie workout beer," "Cucumber Kale Juice with Pitbull's Voli Vodka," "CBD-Infused martinis," and "Dr. Mushroom's Gazpacho Soup with CBD." I'm sure I will be banned for asking, but isn't the point of working out not to have to drink something called "workout beer"? A spokesperson confirmed that, as implied by the above photo, there is no dress code at the bar, so patrons will mix and mingle in their after-workout musk, but did not mention whether or not towels will be provided.
And, of course, one can pay for everything with Bitcoin, in order to transcend the monotony of physical currency just as one gets closer and closer to transcending the limits of one's tragic meat sack. Eventually, you will have reached peak efficiency. Your gut will hum with probiotic kimchi. Your beautiful brain will be scrubbed clean of everything but the lyrics to Pitbull songs.