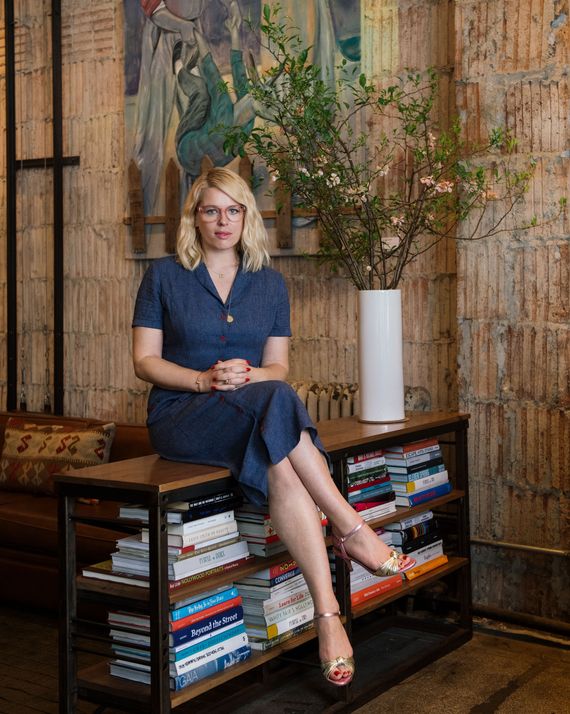 Many people claim to be multi-hyphenates, but Amanda de Cadenet can only be described as such. The photographer and media personality began working as a television host in her native London at age 18. After marriage and her first child, de Cadenet moved to Los Angeles in 1992, where she dabbled in film before transitioning into a successful second career as a photographer. (She's known for portraits of celebrities like Drew Barrymore, Kirsten Dunst, and Sofia Coppola.) Lifetime came calling in 2011, and soon de Cadenet was hosting her own series, The Conversation With Amanda de Cadenet.
As of 2016, de Cadenet can also add entrepreneur and CEO to her resume. Girlgaze is her platform connecting young female-identifying and non-binary photographers, artists, influencers, and producers with paying jobs with brands like Dove, Shinola, Nike, and Warby Parker. What began as a hashtag has evolved to a roster of nearly 200,000 artists across the globe and over $2 million in paid income. Recently, she introduced the Girlgaze Network, a database that will allow employers to search for talent. There's a catch — all of the identifying details are stripped away and creators are judged purely based on their work, in the hopes of eliminating as much unconscious bias in the hiring process as possible.
And de Cadenet hasn't given up her background as a host. The Conversation with Amanda de Cadenet, her new podcast in conjunction with Spotify, launches today with Jameela Jamil and will run for the next nine weeks. Other guests include Amber Heard, Senator Kirsten Gillibrand, and Sophia Bush.
The Cut caught up with de Cadenet in between meetings at NeueHouse to discuss her love of vintage dresses, the advice she gives young creatives, and why she's not afraid to skip makeup.
On her go-to everyday shoes: I have A.P.C. sandals in nearly every color! But if I were to do sneakers, I love my vintage Air Force Ones — they're white with red laces.
On her approach to dressing: I wear a lot of vintage. The fabrics were better back then, plus the cut is more flattering for my shape — I have big boobs and a butt. I prefer silhouettes that go in at the waist. So if I need to go out after work, I'll wear one of them and swap my flip flops for heels. I also love denim and old t-shirts. I tend to mix old-school with a few newer pieces.
On what she wears when she's running late: A linen dress with strappy heels always looks good.
Shop Strappy Heels
On who she dresses for: I wear what makes me feel good, and if that means not wearing makeup for a big meeting, then so be it. I go on television with my hair in a top knot and barefaced. I'm of the opinion that yes, it is important to dress appropriately, but it's also important not to compromise your style to make other people comfortable. I am me no matter where I am, and that is such a relief. Plus, it saves me doing multiple outfit changes in a day.
On the image she wants to project: I live as honestly and with as much integrity as possible. What people think of me isn't my business.
On the last three things she bought: My new AirPods are a game changer. I also just bought Glossier Generation G sheer lipstick in Like, which is a pretty pink, and lastly I got the HVN dress that I'm wearing in this photo!
Shop Fitted Linen Dresses
On how she dressed as a teen: I'm into my old-school style! I was rocking some awesome pieces from Alaia to Chanel back then and I think those looks have held up well.
On the advice she gives to someone starting out in a creative career: Focus on your work being up to par and the rest will follow. Don't worry about having the right clothes — that shouldn't stop you from forging ahead.
On working to equalize the playing field: I'm focused on closing the gender gap one job at a time. In the last 20 months, we have provided over 600 jobs in 65 countries and paid out $2 million to our community from the jobs we secured for them. In order to meet the monumental demand for diverse female creatives, I built out The Girlgaze Network to reduce the unconscious bias that comes with the hiring process. I strip away identifying details and let the work speak for itself, so that women of color, trans women, and all female-identifying creatives have an equal shot at the role.
Shop the Story
If you buy something through our links, New York may earn an affiliate commission.