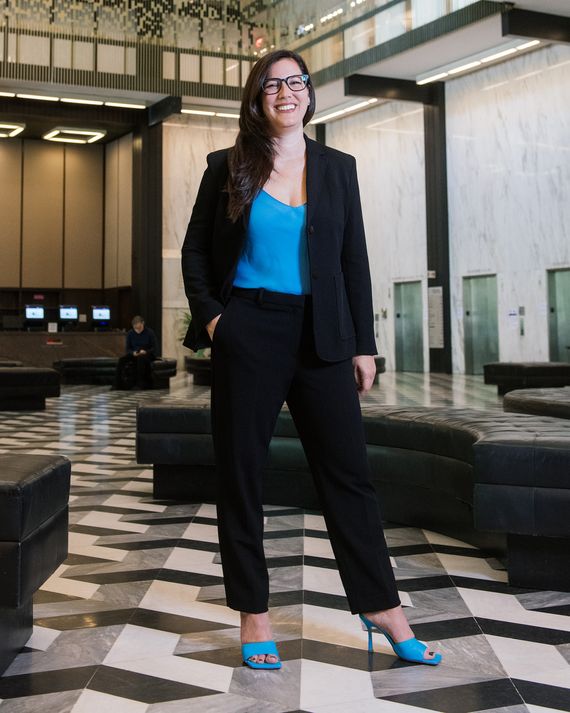 Architecture is still a male-dominated industry, especially at the very top, but Carisima Koenig is working to change that. As the senior vice-president of Cannon Design, Koenig co-leads the New York City education practice, meaning she and her team design new libraries, residence halls, and academic buildings for institutions like New York University and Pratt Institute. In addition to her work at the firm, for the past 15 years Koenig has also taught at Pratt in their Graduate Architecture and Urban Design program. In her spare time she serves as the co-chair of the American Institute of Architects New York Professional Practice Committee and leads her firm's Women's Forum.
Growing up in the Midwest, Koenig initially pursued a fine arts degree but wound up at Iowa State University. While there, she fell in love with design and architecture and moved to New York City upon graduation. Her first job was with Rafael Viñoly Architects and eventually, as she worked her way up the ranks, she wound up at Cannon Design.
The Cut caught up with Koenig at NYU's Bobst Library, where her team is currently helping to design a new home for the Special Collections Center. Read on to hear her thoughts on the color black, why she loves Italian design, and just how early she starts her days.
On her day-to-day shoes: My day takes me to many places across the city. We have a new residence hall project at Pratt Institute currently under construction, and when I'm there, I need waterproof shoes with toe protection. Walking the site at various stages of construction requires boots that look good even after being exposed to dirt and debris. I have a pair by Carhartt for the early days, and for later stages, I'll wear Dr. Martens. If I'm in my Manhattan office or teaching, I'll wear something comfortable, be it heels, sneakers, or flats.
On going out after work: I'm always dressed and ready for whatever pops up on my calendar. My go-to is really anything in black, especially a jacket. My favorites are from Agnes B., Diesel, and Theory. They can make an outfit appropriate for any occasion. I also believe in what I call the "Architect's Statement Necklace." I've collected a few favorites over time, including pieces from Attombri in Venice and Pandora della Malva in Rome.
On big meetings: I make it a point to wear something smart and sophisticated but also tried-and-true. It has to be an outfit I know will look sharp without distracting from the ideas. I want new clients to understand I'm a design professional with a precise and considered approach. It's why I love the color black — it looks good in any situation. It helps with decision fatigue, which naturally comes with the job. We make many design decisions during the day, and it's nice to rely on something that works on an almost involuntary level.
On what she wears when she's running late: I'll do jeans, black silk top, black jacket, and a high ponytail. Then I'll add United Nude heels or a pair of custom Venetian Michel Letizia floral high tops.
Shop Silk Tops
On the last three things she bought: I added a Theory black silk shell to my collection of tops. Plus, given the rave reviews, I also bought a pair of white Teva Hurricane sandals — it's like walking on little clouds! Finally, I got a gray Ruth Bader Ginsburg T-shirt from my favorite T-shirt shop RayGun.
On the one power item in her closet: I'm drawn to all things Italian when comes to design and fashion, so I have this black, pleated Prada skirt that's an especially treasured piece. It's made from heavy cotton and serves as a protective layer in a way — I always feel stylish and inspired when I wear it.
On her average day: My days start early! I wake up around 4:30 a.m. to work through email and set the day. Then, my son and I leave the house around the same time — he heads to high school and I go to my first meeting. Currently, that means I wind up at either the Pratt Institute or New York University. I walk through buildings under construction, talk about project timelines, goals, and more.
After I'll head to my office and work with our design teams, help our national higher-education practice, and prepare for new client interviews. In the evening I'll either be at AIA committee meetings discussing the future of our profession, teaching at Pratt Institute, or attending board meetings for a nonprofit school near where I live in Brooklyn. I may also schedule more informal meet-ups with students to review their progress or portfolio.
On the challenges in architecture: You can make all kinds of plans, but the field is so complex that you have to figure out how to stop trying to control it all and learn to negotiate your way through everything, be it recessions, financing, enrollment downturns, or working with agencies. And there's also the opportunity gap to consider between women who have recently entered the profession and those who lead the profession (usually not women). I'm an architect, but I'm also categorized as a woman who is an architect. I believe these distinctions are important, and I can exist in both spaces as we work toward increasing equity in the field.
Carisima wears Bottega Veneta sandals, similar available at bottegaveneta.com
If you buy something through our links, New York may earn an affiliate commission.