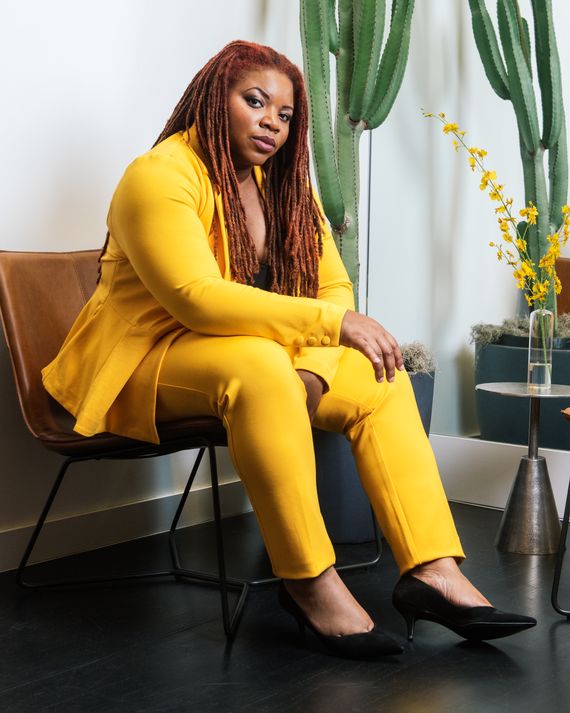 Most people can't imagine completing one marathon, much less seven in seven months. But most people aren't Latoya Shauntay Snell. A professional runner, cook, and writer, Snell maintains an ambitious racing schedule (up to five races per month) while managing a blog, Running Fat Chef. On top of that, she's also an Eloquii spokesmodel and mom to a preteen son.
Getting to this point wasn't easy. Losing both her father and her job in 2009 led her to enroll in culinary school and build a career as a chef and food stylist. And a barrage of health problems — including depression, sciatica, and immune issues — led her to take up running. She fell in love with the sport, but wound up in an unhealthy relationship with food and exercise, going from over 265 pounds to under 170 in a year.
Snell decided to start her site as way to document her journey to finding what's right for her body. It turned into a community for runners who don't fit the athlete stereotype but also led to critics, both on- and offline. (She's written about being heckled during the New York City marathon.) But with over 100 races completed, Snell's not listening to the haters.
The Cut caught up with Snell in between races to talk about her favorite running shoes, her unusual career path, and why she thinks wearing bright colors is a power move.
On her busy schedule: I run anywhere between 30 to 60 miles a week, plus clock in approximately five hours in the gym. The rest of the time I'm spending in the kitchen — as a traveling athlete, I need to be aware of what my food is and how it's being made. I also partner with not-for-profits on speaking engagements, and I have a podcast with Martinus Evans called The Long Run. It challenges the idea that runners are all a certain size and shape. On top of that I have a preteen son and strive to be a supportive wife to my husband Eric.
On what she wears when she means business: High-waisted black pants are especially flattering on me, so I'll wear them with a shirt that doesn't keep me constricted. It's especially helpful when I'm speaking before a large audience or will be moving around a lot. I prefer layers so I can take things off as needed.
On her go-to shoes: I'm usually a jeans-and-band-tee-shirt kind of woman, so I'll usually wear my Hoka One One Hupana sneakers. When I get the opportunity to dress up, it's so much fun! That said I won't wear super-high heels unless they're wedges. I'd rather find something fun like bright colors or interesting details to finish off my outfit.
On her aesthetic: Anything that's vibrant and bold draws me in like a moth to a flame. I want my clothing to tell a story about me without words. I view my body as a painting, and as an artist, it's liberating to allow your viewers to assess your work. It's not a matter of winning over your audience, but celebrating that rewarding feeling that you nailed something.
On her first modeling campaign: ELOQUII's #MODELTHAT campaign was a statement showing that we're all more than the weight we see on the scale. As a proud 247-pound woman, I know that not all of us have the same shape, composition, or backstory, but we all do what we can to impact our corners of the world. I loved being able to take up space with other strong women.
On dressing up at night: I like to showcase the strength in my legs by wearing a flattering skirt. I'm also into jumpsuits, particularly sleeveless ones with a v-neck. Then I'll add dangly earrings or a big bracelet.
Shop Jumpsuits
On the power of color: Shades like royal blues, purples, certain shades of greens, oranges, and yellows really work for me and speak to my personality. When I choose an outfit, I want to feel like it flows. It shouldn't feel too pretentious. I want that balance of fun and approachability, while being taken seriously.
As a kid, I remember seeing the women in my life being told to tone down their spirits. They wanted to wear bright colors but brands would tell them to drown themselves in darker shades. It's the most discouraging thing in the world when you see someone so energetic and full of life be told to not stand out.
On visibility: As an African-American woman born in the '80s, I remember flipping through countless magazines and television programs in an effort to see myself represented, and too many of them didn't quite hit the mark. If a strong woman of color was shown, she was likely stereotyped as being alone. And being plus-size was the butt of every joke. Having the opportunity to see my career highlighted and celebrated has allowed me to heal from years of feeling like I didn't belong. In my heart, I always knew that I was beautiful, but it helps when others make you feel accepted.
Shop High Waist Pants
On staying healthy despite grueling workouts: I love cooking my own meals and having a healthy relationship with my doctors, running coach and my own body. When I feel like something is wrong, I give myself permission to take a day off. Recovery is just as important as the physical labor that we put in. When I feel overwhelmed, I have a healthy dialogue with a therapist – mental health can impact your physical performance!
On her favorite workout gear: I'm a huge fan of Superfit Hero. It's my go-to for training and races. The brand runs from XS to 5X and it's ethically made, stylish, and highly functional. My favorite compression socks are from Swiftwick Socks — they're a small business based in Tennessee. And then for sneakers, I'm all about Hoka One One. I'll wear the Clifton 6s for the road, the Tivra when I'm in the gym, and the Speedgoat 3s when I'm running on the trails.
On who she dresses for: If you don't seek approval within yourself, you cannot impress anyone. I dress to reflect my confidence, openness, and humility. And if I'm doing something athletic, I want people to feel welcome to join me.
Shop the Story
If you buy something through our links, New York may earn an affiliate commission.