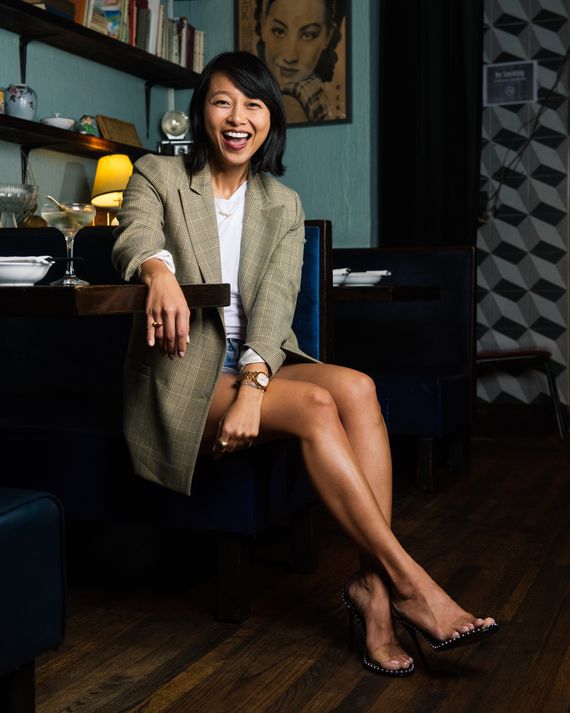 If you've heard of Mimi Cheng's, Contra, or Wildair, it's because of Sue Chan. As the founder of Care of Chan, a top New York City food-culture agency, Chan represents some of the biggest brands and chefs in the restaurant industry. Her team executes top-notch events for movie premieres, fashion soirées, and product launches, in addition to building out brands for personalities like Laila Gohar and Camille Becerra. In the past month alone, she brought in South Philly Barbacoa for an Opening Ceremony event, organized the food collaborators for the launch of HAY's new lamp with Ana Kras, and led a lion dance parade through the streets of Chinatown for The Farewell's dim sum after-party.
Chan's desire to work in the food industry came as a surprise to her family. They immigrated from Taiwan when she was 5, and her father, while attending graduate school, found work on the side at a Chinese restaurant in Texas. He wanted his kids to get white-collar jobs, but by the time she moved to New York for college, Chan was immersed in the world of food. She split her time working in the kitchen at a Michelin-starred restaurant and at a food bank, and wrote her sociology thesis at Barnard about New York "food deserts." After graduating, she picked up a job as a chef's assistant at Momofuku. As the restaurant group grew, she worked her way up to managing a team, leaving after seven years to form her own company.
The Cut caught up with Chan at China Cafe, a local spot where she'll meet friends during her downtime. Read on to hear her thoughts about the power of a statement watch, her love of blazers, and why she makes it a point to support Asian-American designers.
On the shoes she wears daily: My Old Skool Vans, black Dries Van Noten boots, and black Maryam Nassir Zadeh Olympia wedges get plenty of wear. All three go with anything in my closet, are super-comfortable, and can be dressed up or down. The most important things when it comes to what I wear to work are durability, versatility, and comfort.
On going out after work: I'm low-maintenance when it comes to beauty and fashion, so I can't really be bothered to haul my ass home to get ready for something after a day at the office. It's hectic and not efficient — being wasteful with time really bothers me! I make it a point to dress appropriately in the morning.
On her go-to meeting outfit: Luckily, the restaurant industry is pretty casual, but I'll still make an effort, especially if we're trying to get new business. I currently love my red Prince of Wales check blazer from Dover Street Market. It's by a brand with the best name — Itchy Scratchy Patchy. I'll throw it on with my favorite jeans from this Danish brand called Wood Wood. I also do this when I'm running late — a jacket with sneakers or heels is an easy way to look put-together.
Shop Blazers
On her aesthetic: I call it Sporty meets Posh Spice. Someone recently described me as sporty but girlie, and I think he really hit the nail on the head.
On supporting Asian designers: When I first moved to America from Taiwan, I didn't want to be different, so I tried as hard as possible to assimilate. It's what you want to do as a young immigrant. Now that I'm an adult, I'm proud of my heritage and it's important to me to support my culture whenever I can, especially in this political climate. I'll do that by volunteering with Apex, which is a local charity working with underserved Asian and immigrant youth. I'll also get together with friends and clients. We eat at some of the city's best (and most legit) spots, like China Cafe.
And of course, I try to support Asian-American designers, like Humberto Leon and Carol Lim, Alexander Wang, and Sandy Liang. "It's our time!" as my friend Nancy Whang (of LCD Soundsystem) says.
On the one item that makes her feel good: Nothing says you've got your shit together better than a really nice watch, so I'll wear a rose-gold Shinola one. If I need a conversation starter, it's these pink Simone Rocha jelly shoes with a crystal heel — they make people curious!
Shop Watches
On whom she dresses for: One of my favorite quotes is by Deion Sanders: "Dress good, feel good, play good." I dress for myself so I feel comfortable in my own skin, and that helps me perform my best in work and life.
On the last three things she bought: I recently did events for Ganni and Opening Ceremony, and I couldn't help but shop as well. I snagged a cute Ganni seersucker minidress, and while at Opening Ceremony I got more seersucker in the form of a top and pants from Callipygian. Plus, I also added an Adam Selman sheer rose jacket and jeans to my closet.
Shop the Story
If you buy something through our links, New York may earn an affiliate commission.