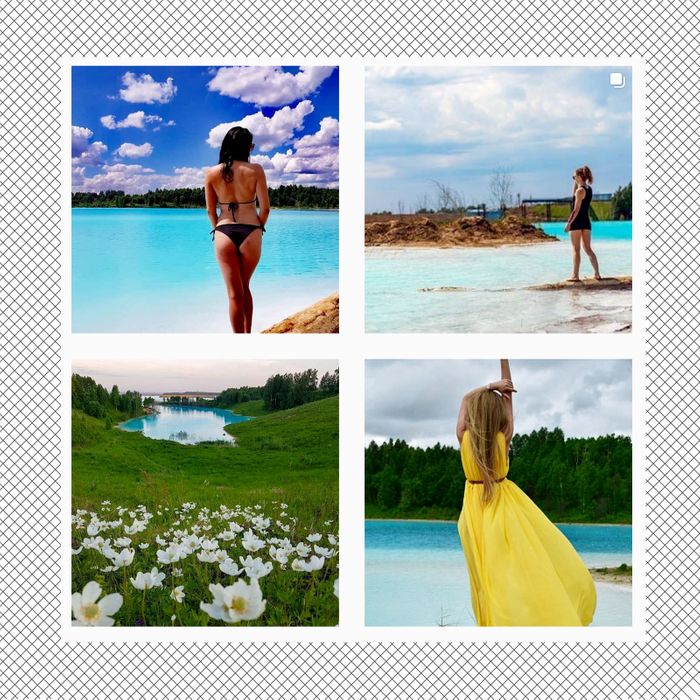 Photo: @maldives_nsk/Instagram
Influencer culture is, literally, rebranding a chemical waste site in Siberia as a luxurious tropical destination.
The New York Times reported on Wednesday that some social media mavericks have been churning out images of themselves at what appears to be a pristine turquoise lake. Sometimes the presence of a filter is of great comfort (you don't really want beach sand to be Oompa Loompa orange). In this case, no filter is required since the sumptuously blue water does not reflect a peerless sky but rather calcium salt and metal oxide deposits. That's because the body of water is truly a man-made waste site for Heating and Electrical Station Number 5, a power plant.
Located just outside Novosibirsk, the largest city in Siberia with a population of 1.6 million, the faux lake has drawn a slew of beautiful people in search of clicks, enchanting them into doing yoga on its shores and even posing in bikinis that hopefully remain dry. Many on social media have dubbed the site the "Maldives of Novosibirsk."
The craze has become severe enough that the Siberian Generating Company, which operates the power plant, issued a statement of caution, saying that while the water is "not poisonous," and its radiation levels are "normal," the water has a high pH value due to all the coal ash in it, which could instigate an allergic reaction: "We strongly ask that while hunting for selfies you don't fall in the ash dump!" The company also warned that it's "almost impossible" to extricate oneself from the lake's bottom. This has reportedly not stopped adventurous idiots from dipping their feet into the waste site or even paddle-boarding across it.
Attention-grabbing? Yes. A bid to sell vacation packages to a toxic waste site? I doubt it, unless the Times follows this up with "36 Hours in the Maldives of Novosibirsk."