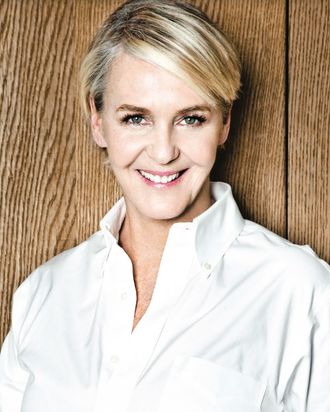 Christina Zeller.
Photo: Courtesy of Delvaux
It's the reverse of the Cinderella story — the princess becomes the hardworking career woman (although that's possibly a loose interpretation of Cinderella's employment status). Princesse Frédéric de Broglie, or, more plainly Christina Zeller, is the artistic director of Delvaux, a heritage Belgian handbag label. A fashion veteran for 35 years, she started as a model for Chanel and Hermès before moving to manage accessories for Karl Lagerfeld, Christian Lacroix, and Givenchy. She's now at Delvaux, the oldest fine leather goods house in the world, and working to bring it into the 21st century. Most recently, the brand launched the Le Pin bag, a miniature version of their youthful 1970s style in sunshiney yellow and baby pink. We spoke with Zeller about stilettos, elegance, and Champagne.
How do you thank someone for a gift?
If the person is in front of me, I would spontaneously kiss the person and then send a personal note. And if the person is not next to me, I would go for the very classic personal handwritten thank-you note.
What would you never wear? 
Sneakers.
What's your dream vacation?
A location where I can find peace and inspiration. Africa is definitely my dream place.
What's a good book on your coffee table right now? 
Empire of Things by Frank Trentmann. It's fascinating to see how our consumption changes over time without us realizing and taking everything for granted.
Last show you binge-watched?
When They See Us on Netflix.
Secret to hosting a good party?
First, make sure that the host is confident and dressed up. And second, be available to everyone by taking time to chat with each of your guests and of course, be sure to have enough Champagne.
What is a trend that you like right now?
Elegance and sophistication by being true to a brand's DNA.
One you don't understand?
Logomania.
Favorite museum/gallery?
Musée Rodin.
Shoes you wear most often?
Sky-high heels.
Can you share a photo of yourself that defines your style?
We often say that "less is more," and this picture is the perfect illustration. A very simple and graphic dress emphasizes the smallest bag in our collection, called Brilliant Charms. I am collecting all the available sizes of this bag.
What's your favorite… 
Candle?
Mantes La Jolie from Astier de Villatte.
Scent?
The fragrance I have worn since I was 18, Cristalle de Chanel.
Restaurant?
La Monnaie de Paris, a quiet and elegant restaurant in the heart of Paris.
Socks?
I never wear any socks.
T-shirt?
Petit Bateau, the most simple and classic t-shirt which reminds me of my childhood.
What's your favorite space in your studio/office/home?
My favorite place in my office is the mood board behind my desk, full of inspiration and memories. All the pictures, papers, notes, articles pinned on the wall are things that moved me at a certain time. I feel very secure to have it behind me.
Shop the Story
Available in sizes XXS–L.
If you buy something through our links, New York may earn an affiliate commission.