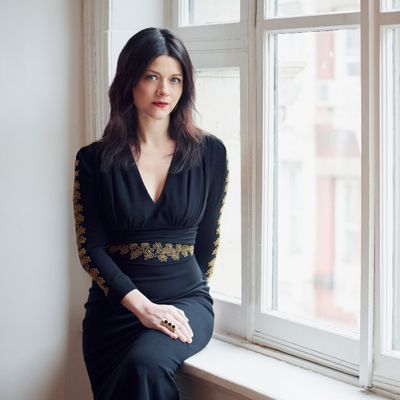 Kara Mann
Photo: Ungano + Agriodimas
Kara Mann is no stranger to the fickle nature of the fashion industry. She started as a stylist for clothes, which led to styling interiors. In addition to working on an apartment for Louis Vuitton and Off-White designer Virgil Abloh, she once designed a home where every room was inspired by a different Alexander McQueen dress. (As to who asked for this, Mann says, "my lips are sealed.") She describes her style as "classic, but definitely not traditional." We would add moody and blessedly not trend-driven. We spoke with her about her favorite furniture, designers, and Memphis design.
How do you thank someone for a gift?
I'm still a sucker for a hand-written thank you on beautiful stationery.
What would you never wear?
I stopped wearing fur.
What's your dream vacation?
Right now? Anywhere that doesn't have Wi-Fi.
What's a good book on your coffee table right now?
Carine Roitfeld's Irreverent, alongside a stack of my daughter's children's books.
Favorite piece of furniture in your apartment/office?
A chair by Rick Owens.
Last show you binge-watched?
Versailles. The costumes, characters, and sets are completely next level.
Secret to hosting a good party?
Lots of champagne.
What's another decade you'd like to live in and why?
The '70s. I was born in the early '70s so was too young to really live them. I love Italian design and French fashion from this decade. It was also just a fascinating time that brought important social change — especially the feminist movement.
What's the secret to a well-decorated space?
Editing.
What's a design trend you don't understand?
Memphis … it's too colorful and chaotic for me.
Favorite museum/gallery?
The Isabella Stewart Gardner Museum in Boston. The interior atrium is total magic.
Shoes you wear most often?
It's a toss-up between Celine white mules, Chloe studded ankle boots (the only flats I really wear), and my new Cult of Coquette black pumps.
Can you share three photos of yourself that define your style? And a brief explanation of why?
Lately, I've been trying to keep it simple — buying solid, key pieces and then wearing the hell out of them. You'll typically find me in beat-up jeans, killer boots, and a faux-fur coat of some sort.
Can you take a photo of your favorite space in your studio/office/home? And give a brief explanation of why it's your favorite?
As an interior designer you naturally become a collector. You are exposed to so many beautiful things while hunting for clients and so it makes sense that all these treasures find their way into your life and home. This living room puts me instantly at ease, surrounded by so many beautiful things I have collected over the years.
What's your favorite…
Flower? Peonies.
Designer? For design/architecture: Joseph Dirand. For fashion: I wear a lot of Isabel Marant and Nili Lotan because both brands are effortless.
Candle? Loveless by Byredo.
Scent? Chanel No. 5 — an oldie but goodie.
Sheets/bedding? I alternate between Kumi Kookoon and Matteo. Kumi Kookoon because their silk is sumptuous, styling is simple, and colors are on point. Matteo because their linen is pure perfection.
Restaurant? Buvette in NYC, LouLou in Paris, Lula Café in Chicago.
Store? The Apartment by The Line — Los Angeles.
Suitcase? Rimowa.
Shop the Story
If you buy something through our links, New York may earn an affiliate commission.