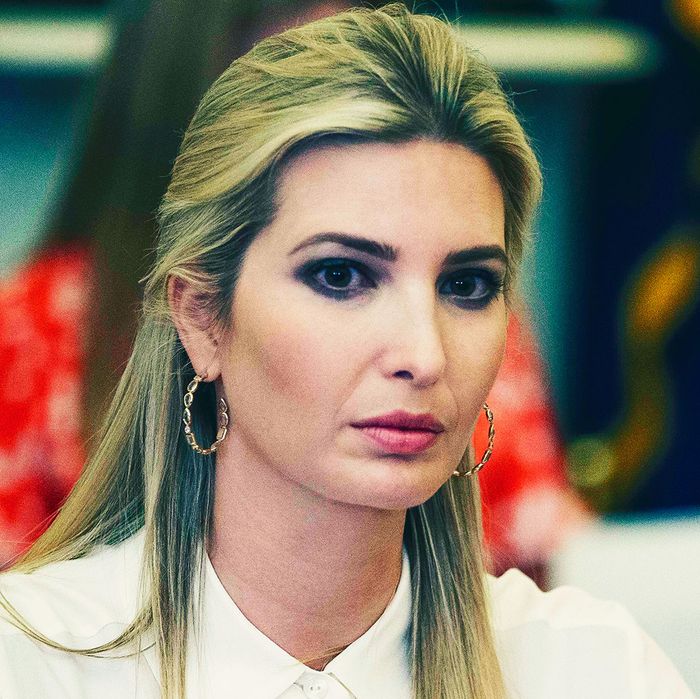 Ivanka Trump.
Photo: Anna Moneymaker/Getty Images
Where is Ivanka Trump?
On Wednesday night, when her father was standing smirkingly in front of a crowd of thousands of supporters chanting "Send her back" about a sitting United States congresswoman, she was tweeting, "Every day we're fighting for hard-working American families!"
On July 14, when he suggested that the same congresswoman and four of her female colleagues "go back and help fix the totally broken and crime infested places from which they came," Ivanka didn't say anything — though a few days before that she had retweeted a message from Liz Cheney about how "empowering women improves the lives of entire families/communities/nations."
On July 1, when congressional representatives visiting a border detention center in El Paso found women who had been told to drink out of toilets if they wanted water, Ivanka tweeted about her new initiative to "help us overcome barriers that inhibit women's full and free participation in the global economy."
So it's not that Ivanka is nowhere — she's all over the place, in Des Moines, in Seoul, in Osaka. She's just absolutely avoiding the most urgent crises created by her father, the president, who has given her the platform she has as his nebulous "adviser." She has said she has no comment on his latest racist tweets.
It wasn't always this way; Ivanka used to, either explicitly or through carefully placed anonymous sources, portray herself as Donald Trump's voice of reason, despite not actually accomplishing any meaningful improvements on his policies and outbursts. There was that time when, after a white supremacist murdered Heather Heyer in Charlottesville, she tweeted that there was "no place in society for racism, white supremacy and neo-nazis." She arranged meetings and sit-downs with the likes of Leonardo DiCaprio and Al Gore, to try to persuade her dad to refrain from pulling out of the Paris Climate Accord, but that was a bust. Now, even the pretense of resistance has fallen away. If for the first year or so of his administration (as The Atlantic described today) she gave a whimpering "not me!," Ivanka has come down with a severe case of conviction laryngitis.
Ivanka's silence is specific and self-preserving. In peddling her vague women's-empowerment-Business-Mom brand, she has embraced an empty, toothless form of advocacy that enables her to prattle incessantly about "women" as if we are a corporate storytelling deck while her father calls some of us "nasty" and "disgusting" and works to strip us of our fundamental rights. This a cynically shrewd way to have a "thing" without having to actually answer for the vulnerable people (many of whom are women!) suffering under Donald Trump; when his presidency is over, she likely hopes she'll be able to use it to maintain distance from the most shameful parts of his legacy.
Take even what would ostensibly be her biggest "triumph" over her father's draconian right-wing mandates: That she supposedly helped convince him to end his policy of family separation at the border. In August of last year, she solemnly said that it was a "low point" for the White House. "I feel very strongly about that, and I am very vehemently against family separation and the separation of parents and children," she intoned — two months after Trump reversed the order, the first time she spoke publicly about the crisis (family separation is still happening, by the way).
We know exactly where Ivanka is: by her father's side. There will be no moment when she storms into the West Wing crying, "Daddy, enough!" As a nameless former White House official put it to the Atlantic: "Maybe she's coming more to grips with the fact that she's tied forever to everything that happens in there, and it's not even worth trying to distance herself from it all anymore."