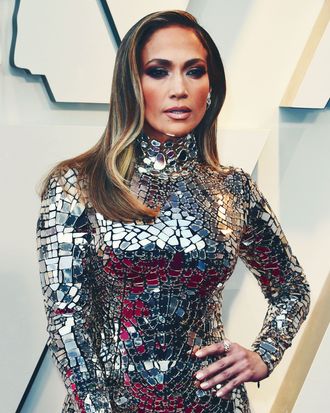 Photo: Mark Ralston/AFP/Getty Images
I don't know if you heard, but J. Lo turned 50 last week and she has a lot to be proud of. She's a musical legend and Hollywood actress, she's by all apparent measures happily engaged to a man she spoils with supermarket cake, she looks terrifyingly good, and she's never driven a car.
That last one is by her own admission. In a video posted to the singer's YouTube channel on Monday titled "Day in my life: MY BIRTHDAY!!!" Alex Rodriguez can be seen surprising his superstar fiancée with a $140,000 Porsche. Lopez responds with genuine awe, saying, "What the hell? What is that I've never had a car like this. I've never driven a car before."
Which is perhaps a bit of an overstatement since the two then venture into the car and Lopez does get behind the wheel. She maneuvers the strange new vehicle with an air of surprise that the car is driving, like if a TV astronaut managed to launch an actual rocket. Rodriguez, picking up on the softly frantic mood, jokes, "Can I get a double seatbelt?"
Anyway, now we are faced with the possibility that J.Lo can't or won't drive and, in her own words, never has, despite video evidence to the contrary.
Some combination of these scenarios seem likely? Speaking from personal experience and general observation, native New Yorkers constitute a tribe of people who, no matter where they may roam, can't drive at all, or can't drive well, and J.Lo is of course from the Bronx. Many of us (ahem) are still trying to transform that third learner's permit into driver's-license gold. Plus you've gotta factor in the reality that Lopez has been rich and famous long enough to have been a backseat queen for several decades.