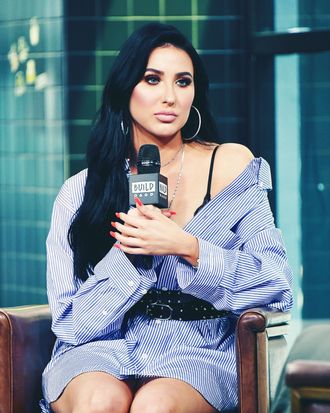 Photo: Michael Loccisano/Getty Images
Just when you thought the great James Charles and Tati Westbrook scandal was all the 2019 makeup-influencer drama you could handle, longtime beauty vlogger Jaclyn Hill deleted her social-media accounts following backlash around her newly released makeup line, Jaclyn Cosmetics. Concerns surrounding sanitary conditions and quality product started around June 8, when customers began complaining about moldlike specks, white hairs, plastic, and gritty texture in the lipsticks.
Hill defended her products at first, accusing one customer of using the lipstick before taking the photo and saying factory workers had used brand-new white gloves during inspection, causing them to "shed all over" the product. On June 12, Hill posted a video on her YouTube titled "My Lipsticks" in which she addresses the concerns one by one.
She then offered full refunds plus a replacement lipstick to every unsatisfied customer and admitted she was embarrassed about the situation. "We made a lot of product in a very short amount of time, and although we all thought it was going to be perfect and fresh, that's not the case. We moved too quickly and because of that, the ingredients are not broken down," she said. On the Jaclyn Cosmetics website, the topic of issuing a recall was addressed. "After a thorough investigation and extensive third-party testing, several labs and safety assessors have confirmed that while a fraction of our lipsticks did not meet our brand standards of quality, they are in full compliance with FDA regulation and safe to use," the brand states.
Interestingly, Hill may have been dealing with poor-quality product for a while. In November 2017, Hill posted an image of a lipstick with tiny holes, calling it the most "unsatisfying lipstick she had ever seen." Though it was never confirmed, followers theorized it was a lab sample from her line.
Prior to the scandal, Hill had mostly been respected in the makeup vlogging community, with fans anticipating her eponymous brand's debut since 2014. She also saw success with previous makeup launches, including collaborations with Becca Cosmetics and Morphe. But her apology and promise of refunds were not enough, especially once the makeup community began investigating the lipsticks themselves. One Twitter user named Betty Wilder, a self-proclaimed "lab geek" who allegedly has over 25 years experience in quality control (though it's unclear how much experience, if any, she has with cosmetics) began testing the lipsticks and said she found mold on a lipstick cap.
On June 25, Marlena Stell, a beauty community veteran and founder of Makeup Geek Cosmetics, posted an hour-and-a-half-long video in which she called out Hill, with whom she had been friends and worked with for years. Stell took issue with what she called Hill's "dishonesty" and lack of "full transparency." Stell also described being "personally hurt" and felt "kicked to the curb" after Hill stopped coming to her for advice.
But the kicker was Stell's own experience with what might be the same cosmetics lab Hill used. Stell said she tried getting concealers made at a lab where she saw Hill visiting. The concealers had never been released due to similar contamination allegedly seen on Hill's lipsticks. "It is well-known, behind the scenes of the beauty community, that this one specific lab had been known to be producing shitty product," she said.
On June 28, Hill erased all of her personal social-media accounts aside from her YouTube, though her company's accounts are still intact. Fans wondered whether Hill's decision to delete her accounts was a response to Stell outing her former friend.
Robin Sumrall, Hill's mom, posted a message on her Instagram thanking her daughter's followers for their "wonderful messages, thoughts and prayers" during this time, alluding that Hill is taking a brief social-media break, as disgraced influencers are known to do. "Please know that Jaclyn needs time but she will be back stronger than ever! She is surrounded by love and support and she will get through this! She will dust herself off, learn from her mistakes and try again," Sumrall wrote in the caption. Let's hope so, but in the meantime, issuing that recall might be a good idea.