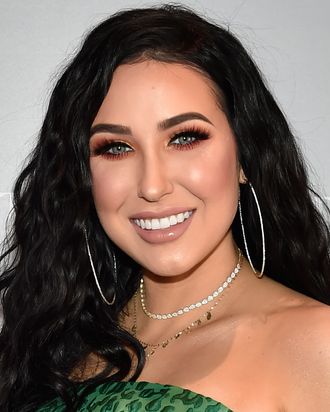 Photo: David Becker/Getty Images for Morphe
After an almost monthlong social-media blackout, disgraced beauty vlogger Jaclyn Hill returned to her YouTube channel to apologize for the controversy involving her recently launched cosmetics company.
Hill's eponymous makeup line had been long anticipated by fans, but when the products were finally released, customers complained that the lipsticks were embedded with hair, mold, and other questionable contaminants. Soon after, Hill experienced backlash from fans and other notable figures in the beauty vlogging industry, and subsequently deleted her social-media channels.
Today, the 29-year-old influencer returned with a YouTube video titled "Where I've Been." She kicks it off by saying she's "uncomfortable" and "terrified" of having to talk about the controversy. "This video might be the biggest mistake of my entire career," Hill admits, before bringing Kurt Cobain into this and reciting his famously attributed quote, "I'd rather be hated for who I am than loved for who I am not."
Hill goes on to say how people advised her against speaking out about the controversy, but she refused to listen to them because she had built her entire career on her relationship with her followers. In the 19-minute-long video, Hill admits to being too cavalier when it came to her cosmetics line, saying she was "confident to the point of cockiness" and that the trouble lay in the fact that she trusted the wrong people and was not involved enough in quality control.
She then says that she had fired "so many people," is no longer working with the first lab despite having projects planned throughout the remainder of the year, and has created an entirely new quality-control team. This was the reason, Hill says, she left social media — not because she was trying to hide. "I was humiliated, I was embarrassed, and it was time for me to start picking things up and putting the pieces back together and rebuilding," she says.
Hill says she gave refunds to every single person who purchased a product from her line, even to customers who had not complained. However, some followers are still not ready to forgive Hill for her sins.
Hill is now moving forward and working on her line with a new lab but did not give any info about a launch date. Despite her YouTube comeback and a promise to release new videos, Hill still has not reinstated her social-media accounts. Let the summer of influencer drama continue!