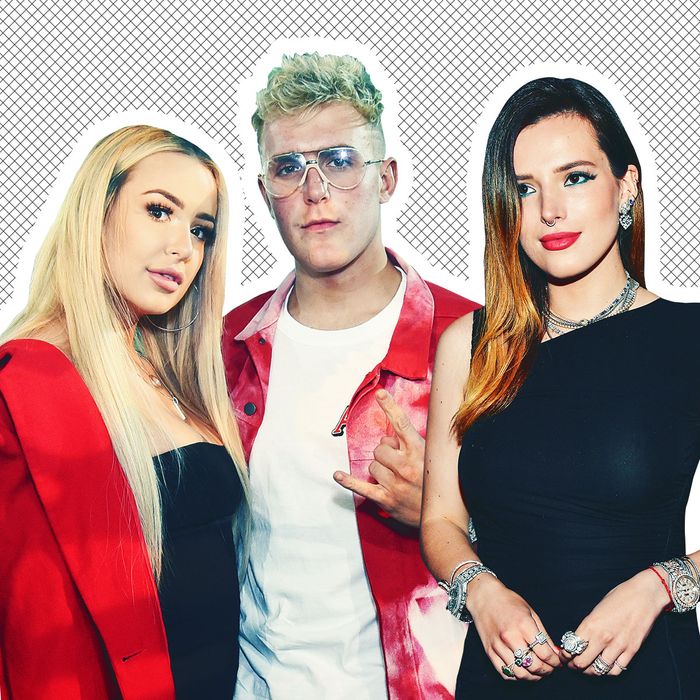 Tana Mongeau, Jake Paul, Bella Thorne.
Photo: Getty Images
Dear unfortunate readers, we are gathered here today, in the absence of any holy being, to delve into the deeply perplexing circumstances surrounding the engagement of YouTubers Jake Paul, 22, and Tana Mongeau, 21, who announced on June 24 that they had become betrothed after two months of dating. From the shoddy cake Paul gave Mongeau as part of his proposal to Bella Thorne's involvement — because naturally, she's involved — this "celebrity" "engagement" could easily be the messiest of 2019. And, if this whole thing isn't a sham, well, they're going to be making their union official… soon.
And with that, we ask you to come on this journey with us.
Who are these people?
Good question! If you desire a deep dive into Tana Mongeau and Jake Paul, Intelligencer has a very comprehensive guide. We'll keep it short here. Paul is a YouTuber who, to his neighbors in West Hollywood, is best known for turning the neighborhood into a "living hell" and a "war zone" through his constant constructing and filming of elaborate video pranks. He's also the brother of Logan Paul, another YouTuber who came under fire last year after he vlogged a dead body he saw hanging from a tree in Japan's "Suicide Forest."
As for Mongeau … like Paul, she too is often embroiled in at least some modicum of drama. She's perhaps best known for her attempt to throw her own convention for video stars, TanaCon, after getting into a dispute with the annual YouTuber event known as VidCon. (TanaCon, as you might suspect, was a complete disaster.)
Anyway, here's the kind of energy the two put out into the universe:
… And they're engaged, after dating for two months! On June 24, Paul popped the big question via a cake with a fake engagement ring on top, and the words "will you marry me, Tana?" Mongeau said yes.
Two months … okay!
… Yeah. And while Paul and Mongeau did get matching tattoos together, à la Ariana Grande and Pete Davidson, many suspect this engagement is a sham, and understandably so. When they two first started dating mere months ago, Intelligencer notes that their union "appeared to be entirely for publicity." And, in the opinion of a diamond expert, the proposal is suspicious. His evidence: A video of Mongeau's ring.
"Nothing is a sure thing without seeing the ring(s) up close, but everything about this little clip says 'fake,'" Ira Weissman, founder of The Diamond Pro, told E! News. "You can see the exaggerated sparkling light reflecting off of something in the bottom right of the frame in the beginning of the clip. This is exactly what you would want to use to try to enhance the sparkle of a simulated diamond to make it look like the real thing."
Also, if this engagement is fake, it wouldn't be Paul's first. Last year, Paul claimed he and his then-girlfriend, YouTuber Erika Costell, had gotten "married." It wasn't until months later that he admitted that this marriage never happened.
But still, Mongeau has insisted on Twitter that the engagement wasn't staged. (Always a sign of a healthy relationship!) And, on July 13 at VidCon, Paul surprised Mongeau with a raunchy poem in which he announced their shockingly soon wedding date: July 28. (I hope Mongeau was involved in making this decision?)
"The day I met Tana, she ate my banana," Paul said, before attempting to be, uh, more romantic. "She's the ying to my yang … Dear Daily Mail stop hating on the rang. From Calabasas to Vegas to getting blacked out, it's about all of our moments and not just the clout."
On July 16, the couple sent out their version of a save the date: a press release for their wedding ceremony, which they believe will "bring down the house and break the internet." According to the release, the two will "combine their lives" at the Graffiti Mansion in Las Vegas, which will be followed by a reception at Sugar Factory. Furthermore, MTV will apparently be filming it; Billboard reports the footage will likely air on Mongeau's new reality show, Tana Turns 21. Tight!
How — and why — did Bella Thorne insert herself to this chaotic engagement?
Bella Thorne and Mongeau are exes: They dated for approximately a year and split this past February. And, when Thorne saw on social media that Mongeau was engaged, she, uh, said the quiet part out loud.
"When ur ex gets engaged 😭😭😭😭😭😭😭😭😭😭😭😭😭😭😭😭😭😭😭😭😭😭😭😭😭😭😭😭😭😭😭😭😭😭😭," she posted on Instagram alongside a slideshow of photos of her weeping.
She also went after Paul on Twitter, writing, "Jake needs to sign a prenup" with many angry emojis.
Not long after posting the dramatic Instagram selfies, though, Thorne posted another, more joyous (and sensual) photo of her and Mongeau. "Through thick and thin😭I love you tana happy bday you beautiful beautiful special girl," she captioned the photo. In the comments, Mongeau wrote, "i love u forever and ever. ❤️"
And then… something happened. On the evening of July 18, Thorne announced on Twitter that she and Mongeau are "no longer good," as the latter apparently "broke girl code." (Thorne also makes the wholly unconvincing argument that she's "over it.")
So what was the cause of Thorne's newfound fury? No one seems to know, except for, naturally, Thorne. In response to the tweet, Mongeau replied, "????? imagine taking every time ur mad at me to Twitter but then telling ppl how much u care about me…….. wtf is this b :/" Then, quote-tweeting Mongeau's response, Thorne fired back with an accusation that Mongeau "legit started dating [her] for Twitter," whatever that means.
Meanwhile, Paul isn't letting anyone get in the way of his apparent happiness — especially his girl's ex. In his gauche poem to Mongeau, he slammed Thorne and his brother for disapproving of the union, saying, "Logan and Bella can hate, the world can question our fate, but on July 28 you can all save the date."
Though Thorne has not explicitly responded to Paul's poem or the wedding date, on July 14 she posted a video to her Instagram story of her repeatedly yelling "Fuck you!" at a pile of Polaroids scattered on the ground, alongside the text, "when all u do is find photos of ur ex's."
I genuinely don't know whom I should be most worried about in this mess.
This post has been updated.