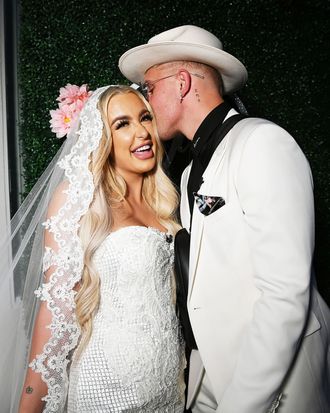 Tana Mongeau and Jake Paul.
Photo: Denise Truscello/WireImage
Well, they actually did it: Just a month after getting engaged, YouTubers Jake Paul, 22, and Tana Mongeau, 21, got married in a what they swear was more than just an elaborate publicity stunt to get more engagement on their social media channels.
If the newlyweds went into their big day hoping to convince skeptics that their relationship is legitimate, this wedding ceremony — for which approximately 66,000 fans reportedly paid between $50 and $75 to watch via livestream — did them absolutely no favors. Hours after Mongeau posted a video tribute to her all-consuming love for Paul, the couple jetted to Las Vegas to tie the knot at the Graffiti Mansion, where chaos almost immediately ensued. Right before Paul got a chance to kiss his bride at the altar, an unidentified man threw a glass of Champagne at the couple, which then led to a brawl (that may or may not have been staged.)
Then, at their reception at the Sugar Factory — to which the couple arrived late — Paul absolutely destroyed his multitier wedding cake with a sword for no apparent reason. For yet another reason that is not yet clear, the couple hired an Oprah impersonator. In the words of BuzzFeed News reporter Stephanie McNeal, who bravely attended the raucous wedding, the entire event was "really fucking weird."
It sure looked like it!
Also, per BuzzFeed, the couple didn't even leave together? (Does this mean they didn't have their dream "wedding threesome" with porn star Riley Reid?)
The following day, in a twist that won't come as a surprise to anyone familiar Mongeau's disastrous attempt to throw an alternative to VidCon (#tbt Tanacon), both Apple and Google Play are now issuing refunds to dissatisfied customers who paid for the wedding live stream through their app stores, according to TMZ. This is because, in the words of the outlet, "the video was shaky, lagging, froze often, and the audio sucked." Also, multiple outlets are reporting that there's no public record of the couple having filed for a marriage license in Clark County. Color us shocked!
This post has been updated.