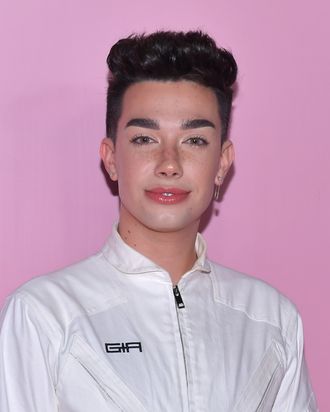 Photo: Emma McIntyre/Getty Images
Starting this week, high school AP test results will become available throughout the country, letting students know how they scored on the essays they wrote about a certain YouTuber influencer saga. Surprisingly (or unsurprisingly), numerous teenagers based their essays on the James Charles and Tati Westbrook drama that dominated much of the internet this past May.
In an entertaining piece about high school AP meme culture reported by MEL Magazine, the AP English test called for students to reflect on something "overrated" and many had chosen to write essays analyzing the beauty vloggers' beef.
"I felt it fitting and timely to include," Claire, a high school junior who wrote about the drama, told MEL Magazine. "Apparently, I wasn't the only one." In fact, several students took to Twitter to confess their exam topic, although such discussion of essay questions are prohibited by the College Board.
In May, Pedestrian.TV interviewed high schoolers who were writing about the controversy. "The James Charles scandal is such a big deal right now and everyone knows so much about it that it just seemed like one of those topics that would be easy to write in detail about," a student named Maya told Pedestrian.TV at the time. "I know so much about it, I might as well use it for something lmao."
Another student explained their reasoning more thoroughly: "He has gotten so many new people interested in him because of this scandal and although he is losing followers, he's getting more people noticing him than he is actually worthy of because his scandal of being a predator and doing undesirable things, he's not really worth all this turmoil and attention, so therefore is overrated."
Gotta give these teens props for turning hours of YouTube drama caused by hair gummies into something useful, right? I hope they all score 5s.