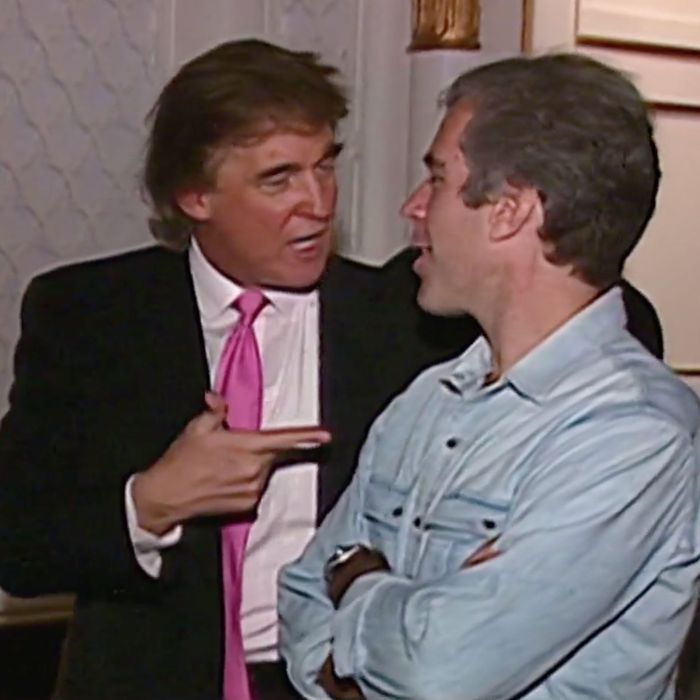 Trump and Epstein.
Photo: NBC
A week after President Trump told reporters in the Oval Office that he "wasn't a fan" of billionaire financier and convicted sex offender Jeffrey Epstein, NBC News has unearthed footage of the two men laughing together and ogling young women at Trump's Mar-a-Lago resort in 1992.
The tape was filmed as part of a talk-show profile of Trump's post-divorce life, and shows Trump surrounded by cheerleaders for the Buffalo Bills, who were in Florida to play against the Miami Dolphins. Trump dances with them, grabs them, bites his lip, and at one point, grabs a woman around her waist, pulls her against him, and then pats her butt.
Part way through the tape, Epstein arrives at the future president's resort with two other guests. They stand around the edges of the dance floor, watching the women dance. Trump talks to Epstein and another man, pointing out various women, gesturing toward one and appearing to say to Epstein, "Look at her, back there. She's hot." Epstein grins and nods. Trump then whispers something in Epstein's ear, and the billionaire doubles over in laughter.
The footage is from the same year as a "calendar girl" party the New York Times reported about earlier this month. The event took place at Mar-a-Lago and the only guests were reportedly Trump, Epstein, and the 28 contestants of a "calendar girl" competition that a Florida businessman had organized at Trump's request.
"I've known Jeff for 15 years. Terrific guy," Trump told New York in 2002. The president, who faces his own numerous allegations of sexual misconduct, has since tried to distance himself significantly from Epstein, banning the alleged pedophile from Mar-a-Lago (where Epstein is accused of recruiting at least one of his victims, according to court documents), and telling reporters last week that he and Epstein had a "falling out" and haven't spoken for 15 years.
Epstein also declined to comment on his relationship with Trump during a 2010 lawsuit, in which he was accused of trafficking children per sex. Per the Times:
Mr. Epstein declined to answer a question about his relationship with Mr. Trump and whether they had ever socialized together "in the presence of females under the age of 18."




"Though I'd like to answer that question, at least today I'm going to have to assert my Fifth, Sixth, 23rd and 14th Amendment rights, sir," Mr. Epstein replied.
Make of that what you will.
Watch the MSNBC video here.
This post has been updated with additional information, and to reflect that the video is from MSNBC.