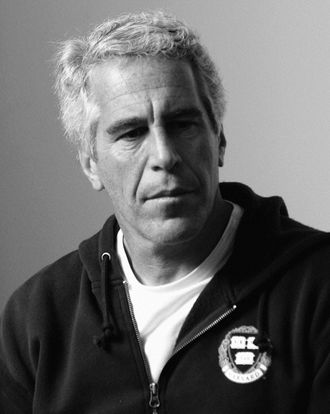 Jeffrey Epstein.
Photo: Rick Friedman/Corbis via Getty Images
On Monday morning, federal prosecutors indicted billionaire financier and convicted sex offender Jeffrey Epstein on charges that he recruited and groomed dozens of underage girls and women into a sex-trafficking ring. As a result, the U.S. Attorney's Office for the Southern District of New York is asking for Epstein's alleged victims to call the FBI.
In a tweet containing a photo of Epstein's mugshot and information related to his arrest, the official account for U.S. Attorney Geoffrey S. Berman made a plea to its followers: "If you believe you are a victim of Jeffrey Epstein, or have information about the conduct alleged in the Indictment unsealed today, please call 1-800-CALL FBI." The tweet, in the six hours that it has been posted, has been retweeted 11,000 times.
Epstein's arrest comes after years of legal efforts by his alleged victims and media outlets to hold him accountable for disturbing accusations dating back more than a decade ago. According to his recently unsealed indictment, prosecutors believe that between 2002 and 2005, Epstein ran a criminal sex ring in New York City and Palm Beach, where he trafficked girls as young as 14 to prominent powerful figures. (Prince Andrew and Alan Dershowitz, for example, have faced accusations of partaking in the sex ring.) Over the years, a handful of Epstein's alleged victims have already come forward — notably, a woman named Virginia Giuffre, who said in a sworn affidavit that Epstein's alleged madame recruited her to be a "sex slave" when she was just 16 — but Epstein has not faced serious legal consequences. (In 2008, when Epstein was facing charges similar to the ones he is today, he dodged federal prosecution when Alexander Acosta — then a federal prosecutor and now Trump's Labor Secretary — handed him a wildly lenient plea deal.) But today, Epstein faces prosecution by the tough Southern District of New York. If convicted, he faces up to 45 years in prison.