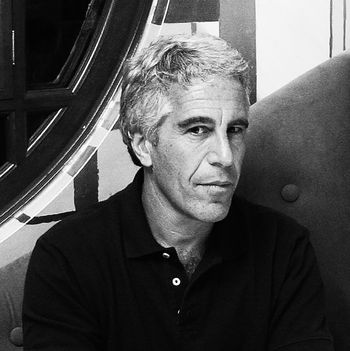 Photo: Rick Friedman/Corbis via Getty Images
According to this week's indictment, Jeffrey Epstein's abuse of dozens of minors mostly occurred at his residences in Manhattan and Palm Beach, but another critical setting for his predatory activities was on his private Boeing 727 plane, a midsize, three-engine commercial jet airliner nicknamed the "Lolita Express." He allegedly used the plane to shuttle underage girls between New York and Palm Beach, and an employee would be onboard to "ensure that minor victims were available for encounters upon his arrival."
Here's what we know about the "Lolita Express":
What activities allegedly occurred on Epstein's jet?
In 2015, victim Virginia Roberts Giuffre filed a lawsuit against Epstein, claiming that he recruited her as a "sex slave" at the age of 15, sexually abusing her for years in his private jet as well as his various residences in New York, New Mexico, Florida, and the U.S. Virgin Islands. In an interview with the Daily Mail, Giuffre said he "always took care of paying" her after she "entertained" his friends. Her alleged abusers included British royal Prince Andrew as well as Harvard Law professor Alan Dershowitz; both of their names appeared on flight logs from Epstein's planes that were published by Gawker after Giuffre's filing. In her affidavit, Giuffre claimed to have had sex with Dershowitz on Epstein's airplane with another girl present.
Dershowitz, a former attorney for Epstein, appeared on flight logs 11 times, but has denied the accusations made by Giuffre, calling them an "outrageous lie." He filed a motion against Giuffre in 2015, stating that the allegations were "ginned up" for the media. "I was on that plane on several occasions as the manifests will show, but never under circumstances where it would have been possible to have sex with Jane Doe #3," Dershowitz's statement read. "On a couple of occasions I was on his plane with my wife and daughter. There were never any young girls on the plane during any of my trips." Dershowitz also told CNN, "I certainly didn't have sex on an airplane. I am not a member of the Mile High Club." Responding to the sex-trafficking charges against Epstein, Dershowitz told the Daily Beast that he would wait to see the evidence before commenting, adding that he hadn't been in touch with Epstein "for a long time."
The jet allegedly had a bed installed where group sex with young girls would occur. Chauntae Davies, a woman who was hired by Epstein as a masseuse and frequently flew on the plane acting as an air hostess, confirmed in an interview with Inside Edition that there was a bed on the plane. She said she was one of several young women who were hired to travel with Epstein to give massages or yoga instruction to him and his friends, though she never had sex with him. "On almost every trip that I did go on there were young girls around," she said.
Who flew on Epstein's jet?
The flight logs, which detailed trips taken between 1997 and 2005, featured several prominent names as well as ones that were misspelled or missing a surname. Some of these included former president Bill Clinton, former national security adviser Sandy Berger, former Colombian president Andrés Pastrana, Naomi Campbell, and former Harvard president Larry Summers, among others. Ghislaine Maxwell, Epstein's associate and former girlfriend, who is accused of helping to recruit the underage girls, was also present during many of his trips.
In 2002, Clinton, Kevin Spacey, and Chris Tucker flew to Africa on Epstein's plane as part of project to raise awareness about poverty and the AIDS crisis. "Jeffrey is both a highly successful financier and a committed philanthropist with a keen sense of global markets and an in-depth knowledge of 21st-century science," Clinton said of Epstein in an interview with New York Magazine at the time. "I especially appreciated his insights and generosity during the recent trip to Africa to work on democratization, empowering the poor, citizen service, and combating HIV/AIDS."
Davies was also on the flight to Africa, and recalled that she made peanut-butter-and-jelly sandwiches for Clinton, Spacey, and Tucker. She also said that Clinton took her shopping when they landed in Africa, but nothing improper occurred. "They had shut down a jewelry store for us and I helped him pick out a bracelet for Chelsea," she said.
On July 8, Clinton issued a statement regarding the charges against Epstein. "President Clinton knows nothing about the terrible crimes Jeffrey Epstein pleaded guilty to in Florida some years ago, or those with which he has been recently charged in New York," it read, stating that the former president took "a total of four trips on Jeffrey Epstein's airplane" in 2002 and 2003. However, flight logs show Clinton had been on the plane 12 times, though it may be at least twice that amount.
"Staff, supporters of the foundation, and his Secret Service detail traveled on every leg of every trip. He had one meeting with Epstein in his Harlem office in 2002, and around the same time made one brief visit to Epstein's New York apartment with a staff member and his security detail. He's not spoken to Epstein in well over a decade, and he has never been to Little St. James Island, Epstein's ranch in New Mexico, or his residence in Florida," the statement concluded. In 2006, Epstein donated $25,000 to the Clinton Foundation through one of his charities.
Where is the jet now?
While we do know that Epstein currently owns two private planes, which prosecutors say makes him a "significant flight risk," it is unclear whether he still owns the Boeing 727. After pleading not guilty to the sex-trafficking charges, Epstein is being held without bail in New York until his detention hearing scheduled for July 15.