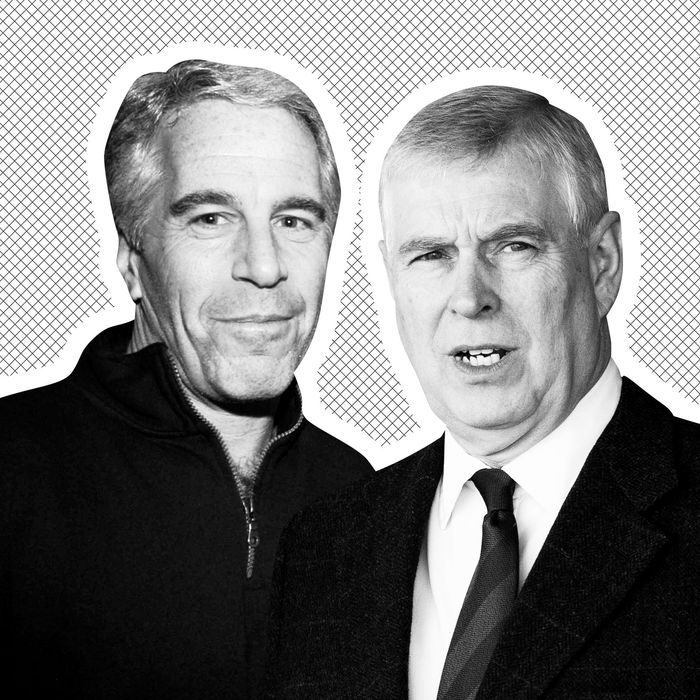 Photo: Getty Images, Shutterstock
Wealthy financier and convicted sex offender Jeffrey Epstein was arrested at an airport in New Jersey on Saturday for allegedly trafficking dozens of underage girls between 2002 and 2005. Epstein, who received a lenient and widely criticized plea deal for similar charges back in 2007, is extremely well-connected. His "little black book" included presidents Bill Clinton and Donald Trump, Richard Branson, Michael Bloomberg, Courtney Love, and … 16 phone numbers for Britain's Prince Andrew (Queen Elizabeth's third child, and Prince Charles's younger brother). Prince Andrew and Epstein have been friends for a while, and, according to court documents, Epstein allegedly forced a teenage girl to have sex with him on three separate occasions, including during what she described as an orgy with other underage girls. Buckingham Palace has vehemently denied the allegations, but as Epstein is back under the spotlight, we're likely to hear more about the prince's relationship to him. Here's everything we know so far.
He and Epstein's relationship goes way back.
Though it is not clear exactly when the prince and Epstein's relationship began (according to the Guardian, probably sometime in the early '90s), it certainly predates the abuse charges against the financier, and the prince was reportedly happy to join his friend in making light of them.
After Epstein accepted his extremely lenient plea deal negotiated with then-prosecutor and current Secretary of Labor Alexander Acosta, and served 13 of his 18-month sentence for soliciting a minor for prostitution, he returned to his $50 million East 71st Street mansion, and "celebrated his release from a Florida jail with his close pal, Britain's Prince Andrew," the New York Post reported in 2011.
Epstein also joked to the Post at the time, "I'm not a sexual predator, I'm an 'offender.' It's the difference between a murderer and a person who steals a bagel."
Epstein once gave Andrew's ex-wife a big loan.
In March 2011, shortly after he feted Epstein's return, Andrew's ex-wife Sarah Ferguson, the Duchess of York, told the Daily Telegraph that Andrew had helped arrange for Epstein to pay over $18,000 to one of the duchess's former assistants to whom she owed nearly $100,000 in unpaid wages and other bills. Andrew was serving as Britain's Special Representative for International Trade and Investment at the time, and this connection to Epstein, who had been convicted four years earlier of soliciting prostitution from a minor, drew heavy criticism in the press.
"I personally, on behalf of myself, deeply regret that Jeffrey Epstein became involved in any way with me," Ferguson told the Telegraph at the time. "I abhor paedophilia and any sexual abuse of children and know that this was a gigantic error of judgment on my behalf."
Andrew eventually stepped down from his role as trade representative in July 2011.
Epstein allegedly forced a teen girl to have sex with Prince Andrew on three separate occasions.
In a suit filed in 2015, Virginia Roberts Giuffre claimed that in 1999, when she was 15 years old, Epstein's friend and alleged madam, Ghislaine Maxwell, approached Giuffre at her summer job at Mar-a-Lago, and offered the teen professional training in massages. Giuffre says she was then brought to Epstein's Palm Beach home, where she was repeatedly sexually abused by him, and that over the next few years, he "loaned her out to rich and influential men around the world," as the Guardian reported in 2015.
Among these men, Prince Andrew, who Giuffre said she was forced to have sex with on three occasions while she was 17, once in London, at Maxwell's home, once in New York, and once on Epstein's private Caribbean island as part of an "orgy with numerous other under-aged girls."
According to court filings submitted in 2015 as part of a long-running lawsuit challenging Epstein's plea deal, Giuffre said Epstein ordered her at the time to "give the prince whatever he required" and report back to him with details of the abuse after. Per the filing, obtained by the Guardian:
"Epstein's purposes in 'lending' Jane Doe (along with other young girls) to such powerful people were to ingratiate himself with them for business, personal, political, and financial gain," the document alleged, "as well as to obtain potential blackmail information".
Buckingham Palace strenuously denied the allegations after they were published in the Guardian, calling them "categorically untrue," and denying "any form of sexual contact or relationship" between the prince and Giuffre.
Flight logs, however, appear to confirm that the prince was in the locations Giuffre claimed he was at the relevant times, the Telegraph reported in 2015.