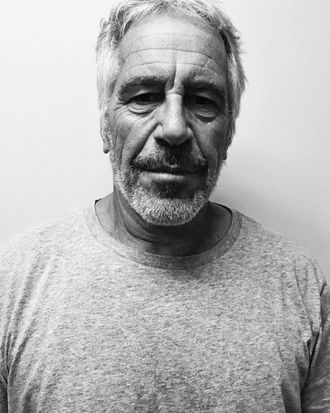 Photo: New York State Division of Crime/EPA-EFE/Shutterstock
In July 1980, Jeffrey Epstein —then 27 and yet to be prosecuted (however leniently) for charges stemming from sexually abusing girls in Florida or arrested over similar allegations in New York — was Cosmopolitan's "Bachelor of the Month."
The Daily Beast reports that the feature advertised "successful single men across the country." While the means by which the subsequent billionaire achieved and maintained his astronomical wealth remain shady to this day, at the time he was a Bear Stearns trader and listed the investment bank's Manhattan headquarters as the address potential applicants should write to.
The brief advertisement for himself reads, in full:
"Financial strategist Jeffrey Epstein, 27, talks only to people who make over a million a year! If you're 'a cute Texas girl,' write this New York dynamo at 55 Water St., 49th floor, N.Y.C. 10041."
It's difficult to imagine a slimier crop of words, or ones more retrospectively chilling in their aspirations. The use of dynamo is apt (in the coming decades, he'd become chummy with powerful people of all professions, from politics to academia to fashion), as is the sharp dichotomy between the millionaires he talks to and the "girl" to whom he presumably has nothing to say. It's unclear whether anyone actually responded; a media representative for Cosmopolitan did not respond to the Daily Beast's request for comment.
The article notes that Epstein left Bear Stearns in 1981, after the firm accused him of "illegal operations" of a financial nature (according to a 1989 deposition, Epstein was allegedly fired after admitting to loaning a friend $20,000 to buy stock).
Epstein would go on to be declared an "eligible bachelor" in the pages of magazines and tabloids well into his 50s. In 2003, for instance, "Page Six" named him one of New York City's "most eligible guys," an honor he shared with Donald Trump and Anthony Weiner.