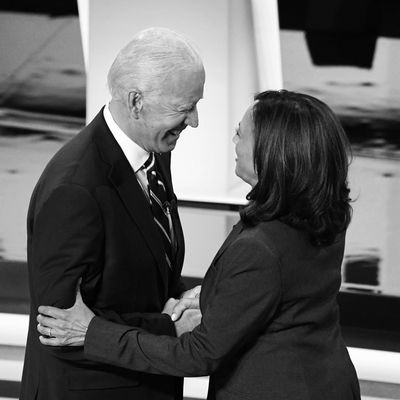 Photo: JIM WATSON/AFP/Getty Images
Tonight's Democratic Debate, kicked off with another viral Joe Biden/Kamala Harris moment: Before the event even started, the former vice president decided to reference last time's go-round, in which Harris KO-ed him on his civil rights record, with some good old fashioned condescension.
Greeting Harris on stage, Biden smiled and shook her hand, saying audibly for the CNN cameras, "Go easy on me, kid," like an old person about to sit down to play checkers with his granddaughter.
The moment was clearly intended to make light of the previous debate's tense interaction the tension between the two, which knocked Biden for a loop and created a surge of support for Harris. Harris had taken Biden to task specifically on busing, a policy meant to reduce segregation in schools by transporting students to different districts, which Biden opposed — speaking as a black student who had directly benefited from it. "There was little girl in California who was part of the second class to integrate her public schools, and she was bused to school every day," Harris said. "And that little girl was me."
After the debate, Biden tried to make the moment about candidates focusing unwarranted attention on him as the best person to beat Donald Trump. "I was prepared for them to come after me, but I wasn't prepared for the person coming at me the way she came at me," he said to CNN's Chris Cuomo the following week.
At least he didn't smell someone's hair or hug them too long tonight, but he managed, still, to be obnoxious, entering the event with the jocularity of a little league coach. By treating his history with Harris with irreverence, he was trying to disarm her, calling her "kid." To which one hopes Harris whispered, "Just because you were an adult making actively harmful policy decisions when I was a child doesn't make me a kid."