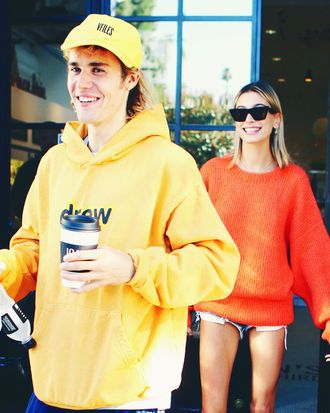 Photo: Broadimage/Shutterstock
Justin Bieber and Hailey Baldwin celebrated the one-year anniversary of their engagement on Sunday. Their relationship, which like many young celebrity romances seemed to blossom suddenly, though the two had known each other since they were kids, is going strong.
At least I'm positive that's what Bieber was trying to convey when he posted a photo on Instagram of the pair snuggling in a darkened room. Hailey's eyes are closed. Justin sports his signature reformed fuckboy smirk. The photo caption is a mastervclass in sentiment. It reads, "My lips get jealous of my arms cuz I can hold you with them." This is poetry and I like it. I want a whole head-shoulders-knees-and-toes of anatomical envy.
Scooter Braun, Bieber's longtime manager who was recently embroiled in a public dispute with Taylor Swift over the rights to her music catalogue, commented on the post, "Awwww shit." Everyone is doing their part to make the post great, and that's what I really appreciate about clicking on this content.
People reported on Tuesday that, according to a source close to Bieber, the pop star "can't imagine life without Hailey … He feels like he wouldn't have made it through this year without [her]." Also, Bieber is a wife guy, per the source: "They still act like newlyweds. Justin constantly surprises Hailey with gifts. She is always gushing about what a great husband he is."
Baldwin acknowledged their anniversary with an Instagram post as well, writing, "Life gets more beautiful everyday because of you, my heart belongs to you forever."
Braun replied with heart emoji.