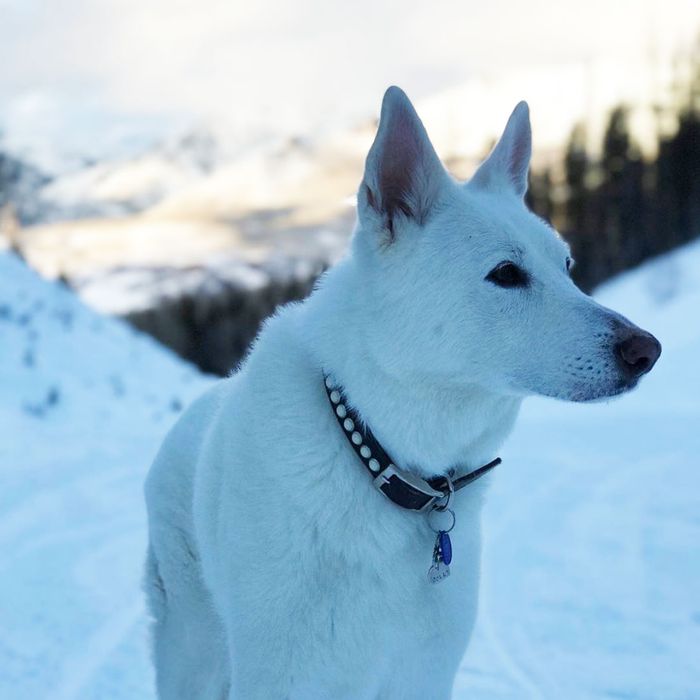 Photo: justintheroux/Instagram
Sadly, Jennifer Aniston and Justin Theroux's German shepherd, Dolly — who had lived with Theroux since the couple's split in February — has died. Both of Dolly's former owners paid tribute to their deceased pet on Instagram, albeit in wildly different styles.
Aniston went with a classic approach, posting a subdued black-and-white picture of her and the dog, which she captioned "RIP Dolly."
Then we have Theroux's post. The first image in the slideshow, of Dolly in snowy environs, is unremarkable. From here the death tribute gets a little more … explicit. Each of the subsequent images shows Dolly's dead body at different angles, scattered with flowers and shrouded by a fluffy blanket in what appears to be a burial ceremony.
The caption reads:
Tonight, at sunset, after a heroic struggle … our most loyal family member and protector, Dolly A. laid down her sword and shield. 🐺💔 She was surrounded by her entire family. "The one that never deserts, the one that never proves ungrateful … is the dog — faithful and true, even in death." -George Vest"
This quote is weird on many levels. For one, George Vest was a 19th-century Confederate senator from Missouri. In his capacity as a trial lawyer, he also delivered a famous (to dog people?) eulogy for a dog named Old Drum who was thought to have been unjustly killed by a neighbor. I also can't help reading it as something of a passive-aggressive spur, perhaps unconscious, given that he and Aniston recently uncoupled. It's messy, but so is death, marriage, and dog ownership.