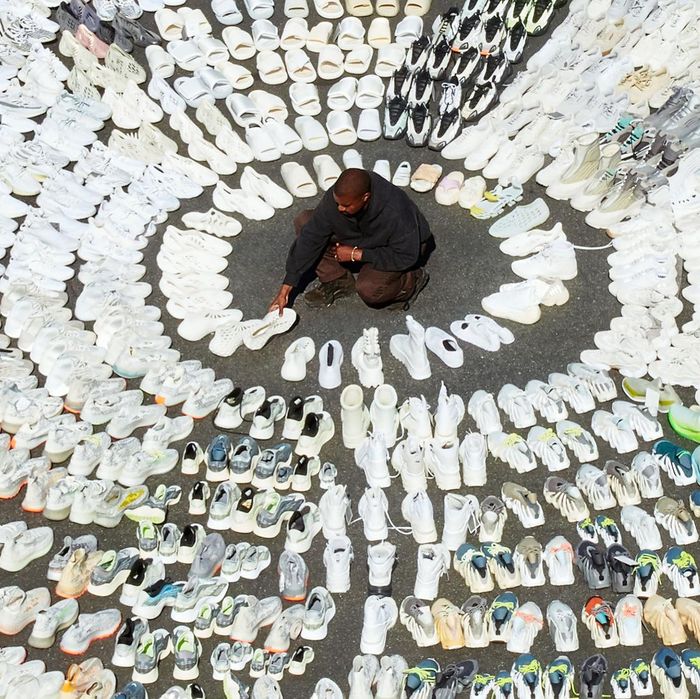 Kanye West.
Photo: Jamel Toppin for Forbes
If there's one thing to appreciate about Kanye West, it's his obsessive, control-freak nature when it's in search of the perfect visual message. Two cases in point: one, his floors (which he chose for his house where he lives with four children) can only be cleaned by a European cleaning crew. And two, as seen in the above photo from the current issue of Forbes, West is at the center of a, for lack of a better word, exhibition of every Yeezy shoe he has ever created. The writer of the Forbes piece made the mistake of asking him how many shoes were included in it. Do not make that mistake!
The image is equal parts stress-inducing and soothing. There's a pleasing aspect to watching West place the final missing shoe into the nearest concentric circle, like a Tibetan monk putting the finishing touches on a sand mandala before wiping it all away — because the only way Yeezy could have gotten out of this arrangement would be to, at least partially, ruin it. Although it's entirely possible that there was an assistant waiting to totally reconstruct it as soon as West knocked a shoe out of place. Or maybe he was airlifted out. Anything is possible.
Of course, this image has already been meme-ified. I'm waiting for my favorite astrology account to tell me what a Taurus such as myself would surround myself with. It's probably fancy shoes.